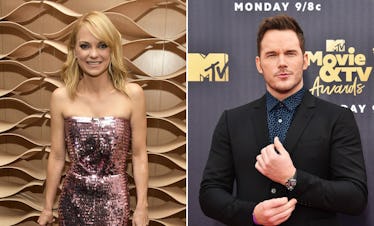 Chris Pratt & Anna Faris Will Reportedly Live 5 Miles Apart For 5 Years For A Sweet Reason
Matt Winkelmeyer/Alberto E. Rodriguez//Getty Images Entertainment/Getty Images
Even though Chris Pratt and Anna Faris have both moved on from their marriage, it's pretty clear that they're happy to remain in each other's lives, especially for their adorable son, Jack. And it's pretty obvious to anyone that Jack is their biggest priority and they put him above everything else, so a big round of applause to these two for co-parenting like champs. Now that their divorce is finally settled (give me a moment here), there are terms about the parents' living arrangements, with both Pratt and Faris reportedly agreeing to live within five miles of each other for the next five years. The reason Chris Pratt and Anna Faris will live close together? You guessed it — it's all about Jack. BRB, sobbing.
According to Entertainment Tonight, the pair's marital status was officially terminated on Wednesday, Nov. 7, and the two have reached a divorce settlement with specific terms for their 5-year-old son.
Court documents obtained by Entertainment Tonight show that the two will both share joint legal and physical custody of Jack, and that both Chris Pratt and Anna Faris have reportedly agreed to live within five miles from each other's homes for the next five years, until Jack has finished 6th grade. The settlement notes that both are allowed to move further away if needed, but that there would need to be three month's notice given to the other parent.
Entertainment Tonight notes that, according to the court documents, "Pratt and Faris, who signed a prenuptial agreement, have waived the right to spousal and child support," and that "they instead work together to maintain a joint bank account for Jack's monthly expenses. They've also decided that they must agree on Jack's enrollment in school and extracurricular activities, authorizing a driver's license, non-emergency medical treatments and others."
This is making me feel so many things. Happy that Chris and Anna are both able to be amicable and remain close for their son's sake. Sad that they even split up to begin with. Confused as to why neither Chris nor Anna mentioned wanting to live five miles from me. I'd be a GOOD neighbor, damnit.
But, I digress.
While both have moved on from each other and have been dating other people (insert weeping emoji here), the couple is still on really good terms.
"Anna and Chris have always maintained a respectful relationship after breaking up," a source told Entertainment Tonight previously. "From the beginning, their main focus has been their son, Jack. Anna and Chris support each other in their new relationships and want one another to be happy."
It's been a rough road (for me, mostly) since the announcement of their separation back in August 2017 after being married for eight years. The pair shared the same announcement on their respective social media pages on Aug. 6, telling their fans,
We are sad to announce we are legally separating. We tried hard for a long time, and we're really disappointed. Our son has two parents who love him very much and for his sake we want to keep this situation as private as possible moving forward. We still have love for each other and will always cherish our time together.
Still cuts like a damn knife.
While the wound is still fresh (again, for me), it's still really nice to see two parents doing everything they can to ensure their son's happiness. So, while it doesn't look like Chris Pratt and Anna Faris will be getting back together, it's at least comforting to think that they're right around the block from each other if they need to be. #ParentingGoals for the win.