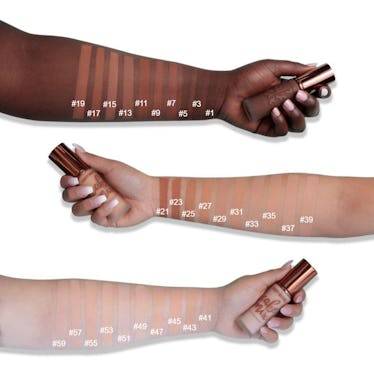 The Reason Beauty Bakerie's Cake Mix Foundation Line Has Darker Shades First Is So Important
Beauty Bakerie
As far as foundations go, the beauty industry has made some major strides when it comes to inclusion. Many legacy brands have worked to extend their shade range over the last few years, offering numerous shades in an effort to provide options for everyone. But much like Fenty Beauty, Beauty Bakerie's Cake Mix Foundation has been catering to all since the day the line launched. And now, the brand is taking things a step further by flipping the script on how its makeup is numbered.
Boasting 30 shades, the Cake Mix Demi-Matte Foundation ($28, beautybakerie.com) starts with the deepest color as number one, while number 59 is the fairest. "When we launched the foundation we sat down so many girls and asked what they thought about the shade range, and shade number one was this girl named Julia, and she had really, really, dark, dark, rich skin," Cashmere Nicole, founder of Beauty Bakerie, told Teen Vogue. "And they said, 'What do you like about Beauty Bakerie Cake Mix?' and she giggled in the most innocent way and said, 'That I'm number one.'"
On Aug. 11, the brand shared a video on Twitter promoting the line. The model in the clip gently swatched on its number three foundation, and it has hard to tell the product apart from her skin! The tweet went viral shortly after, and many beauty lovers applauded the brand for not only the quality of the foundation, but also for switching up the tonal spectrum.
"There are constant reminders, subtle and overt, that being a woman of color is second best," Nicole told Refinery29 in April. "For foundation, I know what's important to me as a black woman — that's why the order is from dark to light. I wanted equal representation, and for everyone to feel just as beautiful."
But just because Nicole is a game-changer in the beauty industry doesn't mean she's doing it simply for the sake of "diversity," which has become a buzzword of sorts in the past few years. "Shonda Rhimes once said that she hates the word 'diversity,' because it suggests something 'other,'" Nicole said. "She uses the word 'normalizing.' I apply this directly to the beauty industry. I'm normalizing it. It isn't genius. I'm making this brand look like how the world looks. Now is a time of healing for people who were once ignored. It's a celebration of unity, understanding, and love."
Foundation aside, Beauty Bakerie also offers a number of other products that work for deeper skin tones, such as its Coffee & Cocoa Bronzer Palette ($38, beautybakerie.com), which was inspired by Nicole's daughter. "My daughter Jasmyn and I have different levels of melanin," the founder wrote on the brand's site. "I felt bad when I could find my shade at stores, but not hers; when bronzers and highlighters gave me glow up, but not her. So I created Coffee & Cocoa for my precious girl and others to enjoy!"
All this said, Beauty Bakerie is definitely poised to continue becoming a major force in the cosmetics industry. Hopefully other brands can keep up!