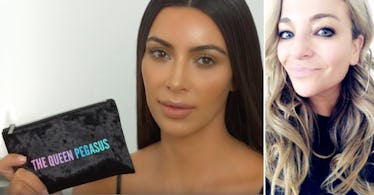 I Tried The Lash Serum Kim Kardashian Uses & The Results Were Majestic AF
YouTube/per-fékt beauty, Hollee Actman Becker
You've been there before: You're scrolling through your Instagram feed when you see your favorite celeb post about their favorite new product — a face serum, vitamins that will make your skin brighter, or a specialty food service. You can't help but want to be like the stars, but are the products worth it? In Elite Daily's new series, I Tried, we put it all to the test. We're trying those products as well as celebrities' health and wellness tips, recipes, and life hacks. We'll do the leg work and tell you what living like your fave star is really like.
Question: When did wearing fake eyelashes become an everyday thing? Over the last 10 years, fake lash strips have gone from something you bust out on a special occasion to something many of us won't leave home without, even if we're just, you know, going to hit up the local Target. My own natural lashes are pretty much non-existent, so in the quest to up my glam game, I tried a lash serum called "The Queen Pegasus" that Kim Kardashian uses and let me just say, it's a total game changer.
I decided to go the serum route because when it comes to wearing fake eyelashes, there are two types of people. The first are those who can apply their falsies like a pro and bat them around dramatically, looking like perfectly wide-eyed goddesses. And then there's me: the type of person who struggles big time to get those babies on and always winds up with glue in her eye. I basically suck at it, OK? Am I shocked, then, when I get home at the end of the night to find a wayward strip of lashes stuck in my hair? Yes, but I really shouldn't be since it happens every single time.
Wearing fake lashes is something I'm just not down with on the daily. I've also tried semi-permanent lash extensions, but those aren't for me, either. They felt like they were pretty high maintenance to keep up with. Refills every three to four weeks? Sorry, but I just don't have it in me.
All of which is to say that I was looking for something else to enhance my naural lashes. So, when I saw Kim Kardashian (and her momager, Kris Jenner) promoting the Queen Pegasus Lash Elixir Kit for longer and thicker lashes, I decided to give it a try.
Am I in the habit of ordering products being hawked by celebrities on social media? With apologies to every former Bachelor contestant... no. But I would buy anything from the Kardashian-Jenners in the hopes that it would make me look like one of them. And I don't even care which one.
I decided to click over to the company's website, where I was promised lashes "so magical you'll think you're a freaking pegasus," and then treated to a video of Kim Kardashian herself using the product:
Sold.
I mean, KKW uses Queen Pegasus, people! Or, at least she's getting paid to pretend she does. Either way, I'm obsessed with those gorgeous lavender tubes and with saying the word "elixir," so yeah, I ordered the stuff. It cost $59 to buy the 30-day package once; $49 for the "subscribe and save" option that gets sent every month. Because I'm not good with commitment, I went with the former.
This is what it looked like when it arrived:
Pretty cute, right? I mean, who doesn't want to look enchanted AF? Like Kim K explains in the clip above, applying the elixir is a two-step process. First, you flick the base of your lashes with the skinny brush from the tube helpfully labeled "the base," which houses a lash conditioner made of things like peptides and amino acids. Then you take the spoolie from the second tube — this one's called "the lash" — and you apply the magic serum of botanical extracts and vitamins from root to tip, just like you would if it was actually mascara.
Done and done. I did this for 30 days straight as directed — give or take a few, because as with commitment, follow-through is just not my forté. So, let's say I did it for 27-ish days. Wanna know what the result was? Well, duh, of course you do!
So here's the before (left) and after (right) pic:
It's kind of dramatic, right? Are there filters on both of these photos? Well, duh. The Kardashians always use filters on their photos, so I decided to go method for this thing. Plus, I think I look way better with a good Snapchat filter applied, so that's how I'm rolling. But the eyelash part is all real — bible! — and it's spectacular. I mean, you can actually see my lashes above my eye for the first time in my life. I think I even felt those bad boys touch the top of my lid at one point the other day. True story.
Are people crossing rooms now to stop and ask me about my lashes? Well, no. But that's exactly how I wanted it. My fringe is longer and fuller, but somehow still totally natural. So yes, I have successfully upped my lash game, and I'm loving how extra it looks. Although, sadly, it probably won't last. Because... follow-through. And because the elixir contains lots of oils that may be good for lash growth, but always wound up getting in my eyes and making me feel all sad and salty like that time Kim lost her $75K diamond earring in the ocean in Bora Bora.
What I do plan on using again is this little velvet pouch that came with my purchase:
The rainbow lettering feels cute and bad*ss all at the same time, plus it says "Queen" on it, which makes me feel majestic AF, whether my lashes are still Pega-fied or not. I'm gonna go ahead and call that a win.