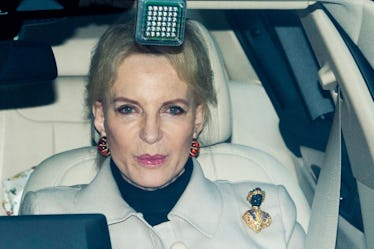 A British Princess Wore This Racist Jewelry To Meghan Markle's First Royal Brunch
Mark Cuthbert/UK Press via Getty Images
Queen Elizabeth's annual pre-Christmas brunch is normally the talk of the town. Commoners such as myself love to gawk at the royal outfits, from fascinators to million dollar jewelry. Royal jewelry is in a league of its own, after all. But when I saw that the Princess of Kent wore a racist brooch for Meghan Markle's first appearance at the festive occasion, I was horrified.
Like many people around the world, I was happily perusing Meghan Markle and Prince Harry's engagement photos yesterday. Unfortunately, my excitement was soured a bit when I saw photos of a classless, tasteless accessory on another royal. Princess Michael of Kent decided to wear the brooch to the Queen's Christmas brunch, where Meghan Markle would be in attendance — and the entire world would be watching.
I soon learned the history behind Princess Michael's brooch is shocking. Jewelry of this nature spans back to the Middle Ages, and it's part of a larger collection called Blackamoor art. According to an article published by New York University, blackamoor motifs are "commonly fixed in positions of servitude — as footmen or waiters," and they "personify fantasies of racial conquest." Honestly, this already sounds like the most mind-blowing choice of jewelry a white British woman could possibly make.
Blackamoor jewelry, furniture, and designs began when Europeans encountered the Moors many years ago. Formerly members of the Muslim population, the dark-skinned Moors came from what is now Spain and Portugal. They were of mixed Arab, Spanish, and Amazigh (Berber) origins, and they eventually settled as refugees in North Africa. Apparently, it was deemed a great idea to harness their looks as inspiration for gaudy jewelry.
American Blackamoor art focuses on romanticizing slavery — fans of Master of None may recall the racist "mammy" jar from season 2, which exemplifies this style. European work tends to depict black bodies as "exotic" noblemen, which isn't any better, because it still fetishizes black bodies.
Why would Princess Michael wear this brooch?
Back in 2004, Princess Michael of Kent told a group of black diners (in New York) to "go back to the colonies". To make matters worse, when interviewed months later, her statement to defend herself went as follows:
I even pretended years ago to be an African, a half-caste African, but because of my light eyes I did not get away with it, but I dyed my hair black.
Wow, there's a lot to unpack here. So many layers of that statement are so wrong. African is not something you can dress up as and pretend to be. Africa is a diverse continent of different tribes, languages, and customs that as an African American, I'm still learning about. To say that you once "pretended to be an African" as a justification for offensive comments is unacceptable.
Someone of Princess Michael's stature isn't ignorant of what the jewelry she buys means, either. Choosing to wear it at all is tone-deaf enough, but she also decided to sport it in front of Meghan Markle, a mixed-race woman. Elite Daily reached out to Markle's rep for comment on this matter, and didn't hear back by the time of publication.
Although it's naive of me to think or state, Markle's race shouldn't be an issue in 2018. Unfortunately, she's been the recipient of "quiet racism" ever since she started dating Prince Harry. A future member of the Royal family, who happens to be biracial, shouldn't attend a family holiday function and witness racist jewelry staring back at her.
Markle is dealing with the complexities of being a biracial, educated woman that is marrying into the royal family. At a time when she should be enjoying her engagement, getting to know her future family, and arguing with Prince Harry over wedding cake flavors, she's being greeted by a woman with a racist past who continues to expose her bigotry.
While I'm upset on Markle's behalf, I'm glad she has the support of Prince Harry and the Queen, who has broken protocol to allow them to marry. From the looks of it, Prince Harry surrounds Markle — a woman that did not choose to be subjected to racism — with nothing but love and devotion.