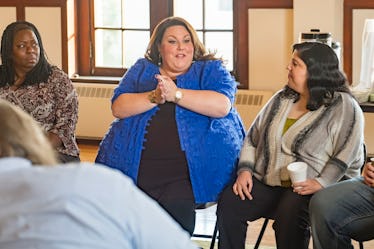 This Workout Helped Kate Through Jack's Death On 'This Is Us' & We All Need To Try It — EXCLUSIVE
NBC
To say the least, Sunday, Feb. 4 made us feel a lot of things. The Eagles won the Super Bowl, Kylie Jenner finally confirmed her pregnancy, and beloved fictional father of the year Jack Pearson of NBC's This Is Us passed away in a house fire while saving his daughter Kate's puppy. Cue all the ugly crying. Jack's death has, unfortunately, been a long time coming. Ever since the show began in 2016, Kate's storyline always alluded to her character feeling the most responsible for Jack's death, including a heart-wrenching scene in which the POUND workout from This Is Us led to a chilling eruption of anger and tears in the middle of class. We all know by now that exercise can do wonders for mental health, but this particular program is unlike any other and something, I think, we could all benefit from.
I personally first came across POUND back in 2014 while working as an intern at a magazine. A DVD of the workout was sent over with a press release, and I was pumped when my editor gave me the go-ahead to take it home and give it a try (clearly, I was ahead of the trend here, guys). From the second my Ripstix (lime green drumsticks that weigh about a quarter of a pound, and are one of the key signifiers of the class) hit the floorboards of my dorm room, I felt invigorated. POUND is about more than lifting, endurance, and sweat; it's about movement and empowerment.
When we saw Kate find her own emotional release through the POUND workout on This Is Us, it was a true testament to what this program can really do for you.
There's often only one outcome when you bottle up emotions: explosion. Kate's character, played by the brilliant Chrissy Metz, moves through the show with a lot of guilt and heartache on her shoulders, but she refuses to let it out, even when her fiancé Toby, played by Chris Sullivan, reaches out with open arms. When this episode aired in January 2017, fans still didn't know what exactly Kate was harboring, but they could hear just how deep her wounds go once the speed of her Ripstix accelerated, and of course, when she let out a loud, cathartic scream.
Trust me, I've tried plenty of fitness classes and programs, but nothing stands out to me in the special way that POUND does. Yes, the combination of pilates, HIIT cardio, isometric and plyometric movements crammed into a 45-minute session is going to make you drip with sweat and sculpt your muscles, and yes, you're going to see your body transform. But POUND's mission isn't solely focused on physical results.
In an exclusive interview with Elite Daily, co-founder and CEO of POUND Kirsten Potenza says she believes that, when it comes to fitness, because your body is constantly changing and evolving, your focus shouldn't necessarily be on something so finite as what you look like before and after a workout program. It's the progression through life, and the journey of building a positive relationship with your mind and body, that truly counts in the end.
Potenza tells Elite Daily that, as someone who has watched loved ones suffer from dementia, and who has seen firsthand just how important it is to keep the mind healthy above all, she's made sure that that was one of the most important aspects of POUND.
"We challenge the mind by putting an instrument in the hands of our participants," she tells Elite Daily. "Team movement with music [allows] you to release emotions by slamming your sticks together or on your mat. It's therapeutic, it's play, and it's so needed in the world we live in."
This unique combination of music and movement is especially effective for improving mental, as well as physical, strength.
So, why was the POUND workout such an important part of Kate's breakthrough on This Is Us? According to Potenza, POUND's involvement with the hit NBC show was as organic as it gets. One of the show's writers attended a POUND class, and through their own experience, realized "the emotional connection and cathartic effects of the workout." This led to Potenza's team training the actor who plays Kate's instructor, and the performance that, Potenza tells Elite Daily, "represented [POUND] in its purest, most authentic form."
What I personally love about this collaboration is that the show didn't gravitate toward POUND because it was trendy. This specific form of exercise was chosen above the rest because it does more than build physical strength. Kate's character wasn't looking for a before-and-after transformation; she was looking for mental clarity, which is exactly what POUND was able to offer her. Exercising the body is important, yes, but it's also so important to exercise your mind, and to know when it needs a little extra attention and care.
Potenza explains that POUND was developed to sync your body's movement with the beat of the music. As you feel and hear your body working through the sequences, you become more aware of your body and your surroundings, and that heightened awareness makes your workout that much more effective. Plus, she notes, instructors don't focus on the clock, or encourage you to count repetitions. The goal, Potenza says, is to focus "on the journey from song to song."
If there's anything I've learned from exercise trial and error over the years, it's that you have to find routines that engage you body and your soul, because both your physical and mental self need to be taken care of. POUND does both by integrating drumming — which has been proven to improve brain power and relieve stress — and putting your body to the test in a short amount of time.
While it's always best to find what works for you and your individual lifestyle, I highly suggest (literally) banging out a POUND session and feeling the effects for yourself.