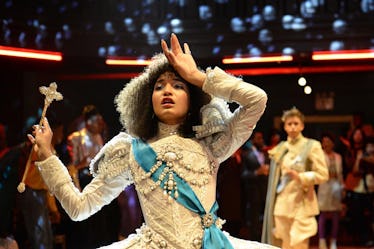 This New TV Show Will Feature The Most Transgender Actors Ever In A Scripted Series
JoJo Whilden/FX
Ryan Murphy's slow but steady takeover of the American television basic cable landscape on FX continues. Beginning with the unexpected smash hit Glee, and then going on to make anthology series new again with shows like American Horror Story, American Crime Story, Scream Queens and Feud, Murphy has become a one-man programming machine. Now, he is heading back to try his hand at musical TV shows again with his brand new series, Pose. But Pose isn't just big because of it's Glee-like concept. It's breaking new ground: Pose will feature the most transgender actors ever featured in a television series, and boasts the largest recurring LGBTQ cast ever for a scripted show.
Like his most recent season of American Horror Story, Murphy was once again inspired by the outcome of the 2016 election. But this is not a show set in the present. Instead, it's a 1980s period piece that looks at the culture during the height of the AIDS crisis years in New York City and how we got to where we are now.
Here's the synopsis from the press release:
Set in the 1980s, Pose looks at the juxtaposition of several segments of life and society in New York: the rise of the luxury Trump-era universe, the downtown social and literary scene and the ball culture world.
Evan Peters (American Horror Story, the X-Men franchise) and Kate Mara (American Horror Story, House of Cards) play New Jersey couple 'Stan' and 'Patty,' who get sucked into the glamour and intrigue of New York City in the 1980s. James Van Der Beek (Dawson's Creek, What Would Diplo Do?) plays Peters' financial kingpin boss, 'Matt.'
FX has ordered eight episodes for Season 1, which are slated to start filming in February and will debut sometime this coming summer.
In the press release, Murphy sounds over the moon for his new project to get picked up for a full season order. He says,
I am thrilled to join forces with John Landgraf and FX Networks and FXP and Dana Walden, Gary Newman and Fox 21 Television Studios to present what I think is a game changer of a show, which at its heart is an uplifting series about the universal quest for identity, family and respect. Along with being a dance musical and an affirming look at American life in the 1980s, I'm so proud that Pose and FX has made history right from the beginning by featuring the most trans series regular actors ever in an American television production. Additionally, the first season Pose will feature 50-plus LGBTQ characters – a record in American television history. I can't wait for people to see this incredibly talented, passionate cast.
Pose originally received a pilot order back in March from FX, and conducted a nationwide search for transgender talent for the production. According to Deadline, those cast members are M.J. Rodriguez, Indya Moore, Dominique Jackson, Hailie Sahar, and Angelica Ross, and all will be playing transgender characters. (The featured image at the top of the post is Indya Moore from the pilot episode.)
One major change from the original pilot: Tatiana Maslany, of Orphan Black fame, was originally part of the main cast. But her part was re-conceived and rewritten to be played by a 50-year-old African American woman, and has been recast with Charlayne Woodard (The Leftovers).
Dana Walden and Gary Newman, the FTG Chairman and CEOs, drew a direct line from Murphy's work on Glee to today's announcement:
A decade ago, Ryan brought us the groundbreaking pilot script for Glee, a show that celebrated underdogs, proudly showcased a completely diverse cast of unknown actors and led the way for new norms of inclusion and diversity on television. In Pose, Ryan has again, with his gifted collaborators, placed a spotlight on people who have been marginalized in society, bringing together emotional stories and a hugely talented cast in an inspirational series.
Just as important as inspiring: helping transgender artists both in front of and behind the camera. To that end, Deadline says that the show will work in conjunction with Ryan Murphy's Half Initiative and bring aboard emerging transgender directors to be mentored through his directing mentorship program.
Pose will debut on FX some time in the summer of 2018.