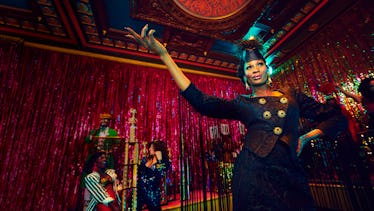 The 'Pose' Cast Is Filled With Familiar Faces, Here's What You Know Know Them From
FX
FX's Pose made history when it was originally announced back in October, boasting it had assembled "the largest cast of transgender actors in series regular roles ever for a scripted series." Many of these actors, the press release said were relatively unknown because of the lack of opportunities for LGBTQ actors and specifically TQPOC. The core transgender cast, which was made up of five actors altogether, had been assembled after a six-month nationwide search. But does that mean when viewers tune in, they will not recognize anyone in the Pose cast?
Some of the faces are brand new, it's true, but most of the cast have some sort of on screen resume. Only three have no credits to their name prior to Pose, but two of those are fashion models. Others are Broadway or Off-Broadway actors who have done a few guest slots on TV before and this is their first big small-screen commitment. So if you're a musical theater lover, you may recognize some of these actors.
For Murphy, this is a dream come true:
I'm so proud that Pose and FX has made history right from the beginning by featuring the most trans series regular actors ever in an American television production. Additionally, the first season Pose will feature 50-plus LGBTQ characters – a record in American television history.
Let's run down the main cast members of the series.