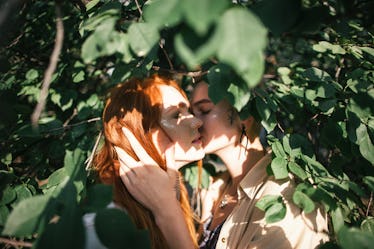 This Is The Public Place You Fantasize About Having Sex In, Based On Your Zodiac Sign
The idea of sex in public can be pretty hot. We've all seen those scenes in movies (or even lived them!) where couples get so turned on, they can't even make it to the safety of their own front door before banging it out. Super hot, right? Well, it is in theory. But if you're wanting to do it IRL, there are some actual criminal risks to keep in mind. Before we break down the best place for public sex based on your zodiac sign, let's quickly get real about what could happen if you got caught smashing it out in public.
Having sex in public is formally known as "public indecency" or "lewdness." It can be categorized as either a Class A or Class B Misdemeanor, and perpetrators can face up to 12 months in jail, probation, a criminal record, up to a $500 fine, or community service (depending on the state where you do the deed). Clearly, having sex in public can have lifelong, financial repercussions, so maybe rethink your undying urge to do it out in the open.
While I'm absolutely not advocating for something illegal, there is a lot to be said about the thrill of sex in public. So here's where you likely fantasize about having sex in public, based on your zodiac sign.