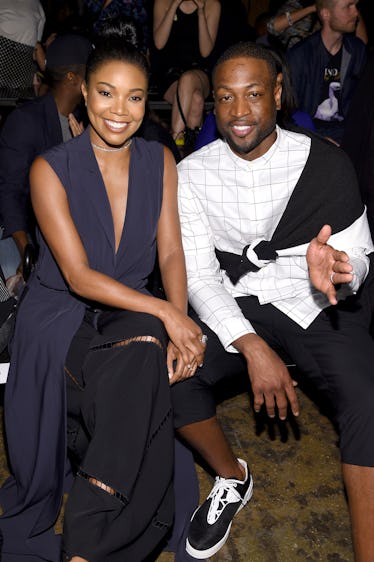 Gabrielle Union & Dwyane Wade's Baby Shower Are So Lit, I Wish I Was There
Dimitrios Kambouris/Getty Images Entertainment/Getty Images
Gabrielle Union and Dwyane Wade welcomed their baby girl Kaavia James a little over a month ago, but they're not done celebrating the new arrival! On Sunday, Dec. 9, Union and Wade threw a tailgate-themed baby shower that looked like a whole lot of fun. Photos of Gabrielle Union and Dwyane Wade's baby shower will definitely make you wish you'd been there!
Union posted a ton of photos and videos from the party to her Instagram Stories and everyone looked like they had a great time. The party itself was quite elaborate, boasting a full marching band and baton twirlers as well as beer pong, kegs, a puppy pit, and a photo booth. Union even tried to do a keg stand at one point and basically failed, but hey, it's the intent that counts!
Clearly, Union and Wade know how to have a good time. More than that, though, it seems like they're beyond ecstatic to be parents. And why shouldn't they be? Baby Kaavia is Union's first child and she's Wade's fourth child. But as a couple, this is the very first time Union and Wade are truly co-parenting after years of struggling with infertility. So, of course, they're in full celebratory mode!
Here's a look at some of the amazing moments from Union and Wade's baby shower:
Union and Wade had been trying for several years to have a baby together. As outlined in Union's 2017 memoir We're Going to Need More Wine, the couple unfortunately dealt with a great deal of loss after Union "had eight or nine miscarriages."
Union then went on to talk about how the experience made her feel and how she never stopped trying to become a mom.
"For three years, my body has been a prisoner of trying to get pregnant — I've either been about to go into an IVF cycle, in the middle of an IVF cycle or coming out of an IVF cycle," Union wrote.
So, finally being able to welcome baby Kaavia via surrogate is a huge milestone for Union and Wade. In a recent interview with Oprah for a special called Oprah at Home with Gabrielle Union, Dwayne Wade & Their New Baby, Wade explained that he has high hopes for family life now that Kaavia is in the picture.
"I want us to always be able to come together, sit around a table and be able to talk about our issues, our feelings, our wants, our needs. I just want us to love each other," Wade shared during the couple's conversation with Oprah. "For us, I want to be able to see my kids' kids have kids and be around. Experience them grow and see who they're going to become in life. Hopefully they become people in this world that we're trying to raise them to become."
Union and Wade are obviously creating a lovely family life and making that their home is a safe place for all their kids which is wonderful! No wonder they're celebrating so much!