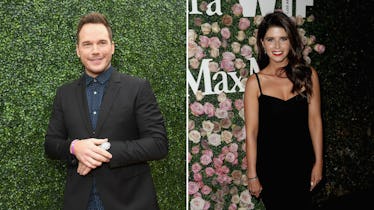 Chris Pratt Introduced Katherine Schwarzenegger To His Family In The Most Romantic Way
Emma McIntyre/Frederick M. Brown/Getty Images Entertainment/Getty Images
There comes a time in every new relationship when you're finally ready to take things a step further by introducing your significant other to your family. For some, it's not that important. For others, it's literally everything. And there's no surprise why: Meeting the family can either make or break a relationship. You hope that it all goes well, that everyone gets along, and that nobody ends up with a drink splashed in their face. Luckily for Chris Pratt, it seems like everything went pretty damn well for him and his new lady friend, Katherine Schwarzenegger. And if I'm being honest, he apparently introduced her to his family in the sweetest way possible, and these photos of Chris Pratt and Katherine Schwarzenegger wine tasting prove it. I'm warning you, though, viewing the pics might actually make you a little bit (OK, a lot a bit) jealous.
The couple, who are rumored to have begun dating this past summer, spent the weekend at Round Pond Estate Winery in Rutherford, Calif., as well as a charity gala, with Pratt's brother, Cully Pratt on Sunday, Sept. 9. While we can't be 100% positive that this was the first time Pratt's brother met Schwarzenegger, it's still a BFD (and probably nerve-wracking for Schwarzenegger). But fret not, because it looks like the gang had a pretty fantastic time together based off of Cully's Instagram posts. In one post that contained a handful of images, he wrote,
So thankful for time shared with my family & friends! On Saturday, we had a great (much needed) day-cation get away, wine tasting @roundpondestate with @candy_lvr@katherineschwarzenegger@prattprattpratt @highbrassleather & @Solano County Sheriff Tom Ferrarra & Napa County Sheriff John Robertson. Thank you all for the laughs, wine and hospitality! On Sunday we all attended the 2018 Mayor's Gala in Napa, to raise awareness and money for The Leaven at www.myleaven.com. We even auctioned off several #cullyprattitems, with @prattprattpratt as the auctioneer!
Be sure to scroll through all of the glorious pictures, which show Chris Pratt and Katherine Schwarzenegger looking seriously happy, as well as a candid that shows Schwarzenegger looking effortlessly girlfriend-like by putting her hand on the back of Pratt's shoulder. Not going to lie, it's cute AF:
Cully posted yet another Instagram post shortly after, containing a multitude of images, writing, "Few more pics for the fellas & gals who attended the incredibly beautiful wine tour @roundpondestate. If you ever have a chance to checkout St. Helena / Napa Valley it's a must!"
And be sure to scroll through this array of photos, too, because you'll see an adorable candid of the couple looking sickeningly in love:
While this may have been the first time that Schwarzenegger was introduced to Pratt's family, Chris Pratt has been introduced to Katherine Schwarzenegger's family already, which means they're the real deal.
According to People, Pratt and Schwarzenegger were spotted leaving church on Sunday, August 5, and enjoyed a meal with her family, and photos and videos Katherine's brother, Patrick Schwarzenegger, posted on Instagram Story showed the couple smiling and cozying up to each other.
A source close to the couple also told People that Pratt introduced his son, Jack, to Schwarzenegger. "They are spending every day together and Katherine has met Jack several times," the source said. "They seem to be getting more serious."
Meeting siblings? Introducing children? I'd say things are getting serious, indeed.