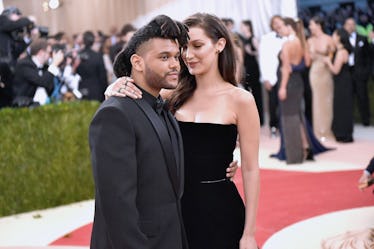 Bella Hadid & The Weeknd Just Won Couple Costume Of The Year With These 'Beetlejuice' Looks
Mike Coppola/Getty Images Entertainment/Getty Images
Bella Hadid and The Weeknd just shut down the couple's costume game for Halloween 2018, you guys. Shut. It. Down. And if you don't believe me, you need to go check out their Instagrams ASAP. Abella collectively shared a ton of pics and videos of their amazing collab — both on their actual feeds and in their stories — and OMG I can't stop pouring over every single one of them. The photos of Bella Hadid and The Weeknd's Beetlejuice costumes are legit so amazing that they will make you want to jump in the line while levitating above a table.
Sorry, I had to.
Anyway, Hadid and The Weekend seriously nailed their trippy looks for Heidi Klum's 19th annual Halloween party by dressing in the wedding scene outfits worn by Michael Keeton's Beetlejuice and Winona Ryder's character, Lydia Deetz, in the iconic 1988 Tim Burton flick. Hadid went the creepy red bride route, complete with high black hair, red eyeshadow, lace gloves, and a bouquet of wilted, blood-red roses, which stylist Mimi Cutrell said she bought three weeks ago. And The Weeknd was legit channeling the devious ghost with his spiky hair, maroon tux, ruffled shirt, and scraggly white skin accented with green smears and dark circles around his eyes.
You kind of have to see the costumes to appreciate how epic they were, so here's one from Hadid's Instagram:
"Yelled beetlejuice 3 times and he appeared," she captioned the artsy shot.
Here are Keaton and Ryder in the movie, just for comparison's sake:
Pretty spot on.
Hadid also shared this picture, which she captioned, "The ghost with the most," hijacking one of the film's famous quotes.
And then there was this image, which Hadid presented without comment, probably because it's legit so amazing, what else is there to say?
I mean, it's like they came right out of The Handbook For The Recently Deceased, am I right?
Anyway, I know what you're now thinking. That it would be so dope to see these two rock out to Journey's "Don't Stop Believin'." Well, guess what fam, it turns out it's your lucky day:
Wait. Does The Weeknd not know the words? Whatev. I'mma give him a pass because he just looks so freaking cool and you can tell that he's totally feeling this role. He also did his fans a solid by hooking us all up with some amazing behind-the-scenes footage of himself putting on his costume and then later breaking it down at the end of the night.
OK, so here he is getting Beetle-ready:
And here he is coming undone at the end of the night:
I'm kind of in love with the whole unposed thing The Weeknd's got going on here. Like, you know Hadid was just like "Hey, babe," and then he looked up from his phone for a sec and she snapped the pic.
Speaking of which, please take a minute to watch this video of Hadid taking off the Weeknd's makeup:
"Does that hurt, baby?"
I think it's officially time to celebrate, because these two seem more in love than ever.