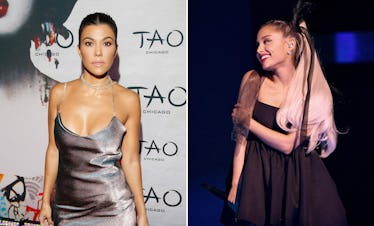 Kourtney K's Ariana Grande Costume Is So Unbelievably Good, Even Ari Was Blown Away
Jeff Schear/Kevin Winter/Getty Images Entertainment/Getty Images
What did you dress up as for Halloween this year? Or, rather, who did you dress up as for Halloween this year? Living in the time that we do, it's pretty amazing to have such vast resources for inspiration for costumes, especially when it comes to celebs. The number of iconic looks that our favorite celebrities dish out year after year prove that on Halloween, your options for costumes are literally endless. My favorite thing to witness is when famous people dress up as other famous people — it's like some weird celebrity inception, and I find it absolutely thrilling. Case in point: this photo of Kourtney Kardashian's Ariana Grande Halloween costume. Not only is it genius, but it's so spot on that it's actually (wait for it) ~spooky~ scary.
Keeping Up With The Kardashians star Kourtney Kardashian is no stranger to epic Halloween costumes. Remember the time last year that she dressed up as Michael Jackson for Halloween alongside her sister, Kim, who went as Madonna? Or the time, back in 2015, when she dressed up as Wonder Woman and her children were all superheroes?
Well, you guys, she's done it again, and Kourt's costume this year is on an entirely new level. The 39-year-old knocked things out of the park by dressing as 25-year-old pop star Ariana Grande, and her costume is pure magic.
Wearing a pink babydoll dress with matching pink thigh-high boots and gripping a microphone, Kardashian channeled her inner Ariana Grande and absolutely slayed.
She even wore a blonde wig with a high ponytail that is surprisingly identical to Grande's, equipped with the silver rings braided into the roots, à la Ari. She posted a pic to Instagram and captioned it, "God is a woman," and hot damn does she deliver the look:
In case you need a refresher, here's Grande herself rocking the look on Jimmy Fallon back in May:
Can someone say nailed it? Even Grande agrees Kardashian's look was on point. She commented on the picture with a ton of heart emojis.
Kardashian also took to her Instagram story to share some video footage of her Halloween, and in the videos, we get to see even more Kourtiana Grandashian.
Like this video, where we get just a small, passing glimpse of Kourtiana walking by a mirror:
And guess what? Another video shows Kourtiana walking down the block to go what appears to be trick-or-treating with her children, and you guys. SHE EVEN BOPS HER HEAD LIKE GRANDE:
I don't know how to even process this. This video is messing me up, because that really does look like Ariana Grande walking away. It is so good.
The mom of three also posted a photo of her alongside her youngest son, Reign, who dressed up as a spot-on Jack Skellington for the holiday:
Later on that evening, though, Kardashian was no longer Kourtiana and changed into a new look for sister Kendall Jenner's 23rd birthday celebration. Here she is dressed up as one of the Japanese twins from Austin Powers: Goldmember with friend Steph Shepherd, aka Steph Shep:
And her oldest son, Mason, went as Mini Me (or Dr. Evil, but in the video, you hear someone say "Mini Me," so we're going with it):
OK, Kardashian family. You win at Halloween this year.