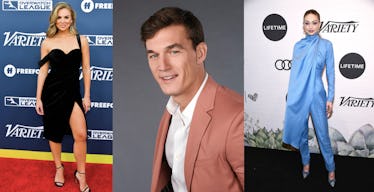 Tyler's Astrological Compatibility With Gigi Vs. Hannah Will Make Fans Squeal
Rodin Eckenroth/Stringer/ABC/Theo Wargo/Getty Images
If you're a Bachelor Nation fan, chances are you're still catching your breath after everything that went down on the Season 15 finale of The Bachelorette. From Hannah Brown picking Jed Wyatt over supreme dreamboat Tyler Cameron, to Wyatt turning out to be shady AF, to Brown shooting her shot with Cameron and asking him out for a drink — it was a lot. Not that I'm complaining, but all that had to be peak drama, right? Nope, because now I'm wondering which partner Tyler Cameron is most astrologically compatible with after he was spotted cozying up with Brown and Gigi Hadid just two short days apart.
Here's how it all went down. According to Us Weekly, a source reportedly told the publication that Brown reportedly invited Cameron over to her place for that post-finale drink on Aug. 1. This was seemingly confirmed when Cameron was photographed leaving her apartment the following morning. For fans of this rekindling, there was plenty to be excited about. But just a few days later, witnesses on Twitter spotted Cameron on what seemed like a date with Hadid at Soho House in Brooklyn, New York. They reportedly followed that up with a second date the next day, and this time they were reportedly seen bowling with a group of friends. According to a reported E! News source, "Gigi is definitely interested in Tyler." This same source went on to explain, "They met for drinks last night at Soho and they got along really well. It was very casual but they were laughing and had a very engaged conversation. They are both taking things slow but have both made it clear they are interested in each other."
Odds are you have an opinion on which date is better suited for Cameron, but what do the stars have to say about these pairings? Cameron was born Jan. 31, under the sign of Aquarius. If you've ever dated an Aquarian, you know they're a unique sign that needs a partner who's a perfect fit in order to be happy in a relationship. As it turns out, one of his recent romantic connections is much more astrologically compatible than the other. Here's what we can divine about who Cameron is most compatible with based on their zodiac signs.