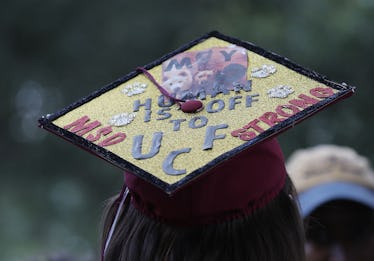 The Parkland Students' Graduation Had The Most Moving Tribute To The Shooting Victims
Joe Raedle/Getty Images News/Getty Images
It's been almost four months since tragedy struck in Parkland, Florida just before school let out on Feb. 14. A shooter descended upon Marjory Stoneman Douglas High School on that day and killed 17 people, most of whom were students at the school. When it came time for graduation, the students definitely did not forget to include the classmates that would have been walking across the stage to receive their diplomas alongside them. The Parkland students' graduation tributes to the shooting victims was so touching and special, and their graduation day is definitely not a day that they'll forget anytime soon.
Bittersweet may be the perfect word for what I can only imagine the 2018 graduating class at Marjory Stoneman Douglas High School was feeling on June 3. The seniors walked across the stage to receive their diplomas, but four faces from the graduating class were noticeably missing. Seniors Nicholas Dworet, Joaquin Oliver, Meadow Pollack and Carmen Schentrup were among the 17 people killed on Feb. 14, when a shooter opened fire on school's campus just before school let out, killing more than a dozen students and faculty.
Just because those students could not be with their fellow graduates doesn't mean that they were not there in spirit. In an effort to pay tribute to those killed members of the senior class, other students decorated their caps with photos of the slain students and shared messages of comfort. It was the perfect way to honor their lives and the accomplishments that they would have achieved had their lives not been cut short.
And a lot of the students took to social media to let the world know that they were thinking of the friends that could not be with them on this day.
To be honest with you, I had trouble holding back my tears while looking at these stunning tributes to the Parkland students' classmates. This small detail that the students incorporated into their ceremony was the perfect, touching way to honor the students that lost their lives on that day in February. Graduating from high school is already a huge deal, so I can't imagine how these students must have felt, knowing what they went through earlier this year.
The day wasn't totally somber, though. A graduation is a celebratory event after all, so there was definitely an air of pride and accomplishment that was shared among these students. The Marjory Stoneman Douglas class of 2018 also had a very notable guest speaker in attendance for the ceremony. Jimmy Fallon himself, late night host extraordinaire, decided to surprise the graduating class by showing up to speak at their ceremony.
Fallon shared a short video from his speech on Twitter with a message to the graduates, saying "Congratulations Marjory Stoneman Douglas Class of 2018! You are not just the future - you are the present. Keep changing the world. Keep making us proud."
I can't imagine how moving his speech must have been to these graduating seniors based on that tweet alone. According to The Hill, Fallon told the class in his speech, "When something feels hard, remember that it gets better. Choose to move forward. Don't let anything stop you."
That sentiment that Fallon shared could not be more on par with what these students from Parkland have accomplished. Beyond surviving a mass shooting, they've inspired the world over and reignited the push for gun reform in the United States. The student survivors organized a international March For Our Lives that took place on March 24, where the students and their allies called on the country's government to take gun reform legislation more seriously. If that isn't inspirational then I don't know what is.
These decorated graduation caps are just another example of how truly exceptional these Parkland students are — and how tragic it is that this is what it had to take for the country to hear their activism.