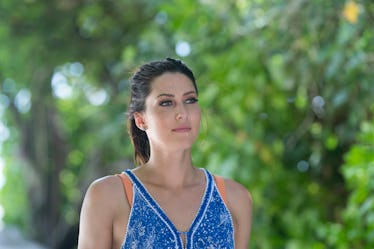 The Original 'Bachelorette' Full Season Trailer Was Edited In A Major Way & Fans Noticed
ABC
This season of The Bachelorette has been a whirlwind. We've balanced chicken suits, gold underwear, false "I'm falling in love with you"'s, problematic offscreen drama, and the ultimate rehashing of everything in the Men Tell All event. Most devoted fans could list off the season's timeline backwards and forward, but if they rewound to the beginning, they'd find a massive goof in promos that never even happened. The original Bachelorette full season trailer was edited in a major way, and you won't believe that you didn't catch on to this trickery sooner.
The full trailer that launches at the end of each season's first episode is carefully dissected in the week between the premiere and the next episode. Although, once the season progresses, the trailer isn't referred to as much, which is probably why this editing inconsistency hasn't blown up your Twitter feed yet. As POPSUGAR points out, the trailer we saw at the beginning of Season 14 checks off all of the big talking points, but it has a brief, odd moment that is seemingly entirely fabricated. OK, OK, it's The Bachelorette and nothing is totally untouched, but this is particularly insane.
Around the 1:20 mark of the season trailer, the scene of Becca crying after breaking up with Jason is shown. However, with hands covering her mouth at certain moments, she says, "He literally just did what Arie did to me." Do you see the mistake?
When Jason's full elimination played out in Week 9 of the season, the story went a little differently. Fans know that Becca was the one to break things off with Jason, not the other way around, and in the full version that ABC aired later this summer, she says, "I literally just did to him what Arie did to me."
Again, her face is so distraught at the moment that what with the way the camera captured her, it was probably easy for ABC to squeeze a brief vocal switch into her sentence. The trailer also plays Becca's tears alongside Chris's rant about Lincoln being manipulative, initially presenting the idea that Becca is crying about Lincoln dumping her. Well, seeing how Lincoln turned out, thank goodness that wasn't the case.
The real scandal about this tease is that ABC promoted a storyline that never actually happened. This was never a case of old-school Bachelorette seasons where one of the lead's favorite men just isn't into her and leaves at practically the last possible moment (particularly Season 9 Bachelorette Desiree with contestant Brooks, ICYMI). All of Becca's contestants came across as genuinely happy to be on her season and were usually quite respectful when she eliminated them. Apart from Clay leaving for surgery, no one ever chose to leave on his own terms, but ABC was apparently really into the idea of convincing fans that it would happen. You know, weeks after the show had finished filming.
So, was this intentional or was it an intern's mistake that no one caught before the season premiere? We don't know, but a few fans who caught the error have some thoughts about it on Twitter.
Meanwhile, spoiler guru Reality Steve called out the mistake directly when Jason was eliminated from the show. He appears to be in the camp that believes the change of Becca's words was intentional. But why even bother, ABC?
This will probably be one of those goofs that fades away into Bachelor obscurity without any explanation, but if the editing was ABC's prerogative, I'll definitely be scratching my head about its reasoning. Becca has had to deal with enough this season, and she doesn't even need the suggestion that a guy would pull an Arie on her. Not cool, ABC.
The Bachelorette concludes on Monday, Aug. 6, at 8 p.m. ET on ABC.