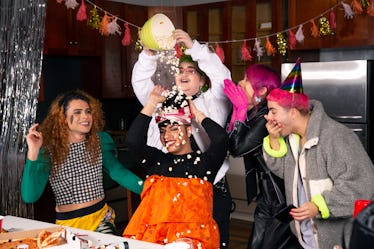 The Origin Of Pride Month Is Really Fascinating — Here's Why We Celebrate It
You might know that LGBTQ+ Pride month takes place in June, with marches, parades, and festivals happening across the country and all over the world. But are you aware of the fascinating history surrounding why we celebrate Pride month? Turns out the origin of pride month is a bit more complicated than you might think. While it is a celebration of progress in the LGBTQ+ community, it's also a reminder of how far there is still to go. Pride isn't just about partying. Whether you're a member of the LGBTQ+ community or a straight ally, it's important to do your research beforehand and remember to be mindful of the complex history behind modern-day Pride festivities.
I spoke to Marc Stein, professor of history at San Francisco State University and author of Rethinking the Gay and Lesbian Movement and Documenting the Stonewall Riots: A Primary Source Reader, about the history of Pride month. "In the early years, gay pride events were conceptualized more as marches and demonstrations than as parades and festivals," Stein tells Elite Daily.
The Stonewall Riots of 1969 are remembered as the beginning of the modern gay rights movement. In the early morning hours of June 28, 1969, New York City police raided the Stonewall Inn in the West Village. This bar had become an important space for NYC's underground gay community. Police raids were routine, but this occasion was different. For the first time, community members fought back, inciting what would become known as the Stonewall Riots. "After bar patrons and passersby resisted and fought back, thousands rioted in the streets near the Stonewall Inn over the course of the next week," says Stein.
That November, a regional conference of LGBT activists took place in Philadelphia. "The Eastern Regional Conference of Homophile Organizations voted in favor of replacing the Annual Reminder demonstrations, which had taken place at Independence Hall in Philadelphia on July 4 from 1965 through 1969, with an annual event to mark the anniversary of the riots," says Stein. The day was called Christopher Street Liberation Day (named for the street that the Stonewall Inn is on) and would be celebrated in New York, though, Stein adds, "the regional conference also expressed the hope that other cities would organize events to commemorate the anniversary of the riots."
According to Stein, gay pride marches and other gay pride events were first held in the spring and summer of 1970. On June 28, 1970, the first Gay Pride March was held by the Christopher Street Liberation Committee to commemorate the riots. According to The New York Times, the marchers reportedly took up 15 city blocks. In 1970, "the largest gay pride marches were held in New York, Los Angeles, and Chicago," says Stein. "More cities held marches and other events in 1971, though again the largest were in New York, Los Angeles, and Chicago. In 1972 and 1973, still more cities began to hold gay pride events, with distinctly large ones occurring in New York, San Francisco, Chicago, and Philadelphia."
Stein explains that in the first four years of gay pride events, "there was great emphasis on community solidarity and unity, but there were also conflicts." These conflicts occurred with police and local authorities about permits, routes, and more, as well as within LGBTQ+ communities, "between men and women, between white people and people of color, between cisgender and trans people, between commercial interests and anti-capitalist activists, and between those who embraced and those who rejected the politics of respectability," says Stein.
By 1984, Pride celebrations were established in many major US cities, as well as around the world. On June 28, 2015, 46 years after the Stonewall Riots ushered in the contemporary gay rights movement, the Supreme Court ruled in favor of same-sex marriage nationwide.
While gay rights have come a long way in the past few decades, there is still work to be done in terms of intersectionality and tolerance in general. So educate yourself and others, volunteer your time, donate to LGBTQ+ organizations, and of course, celebrate Pride this June.