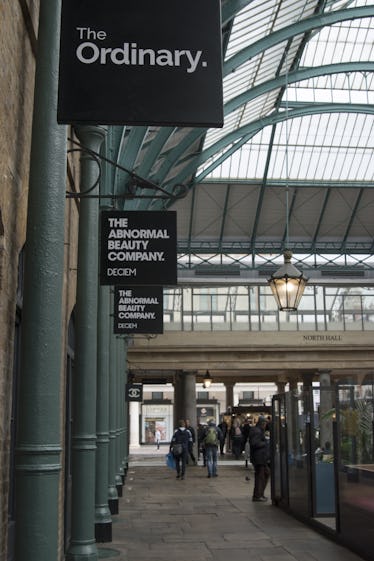 Here's What The Ordinary Is Doing Instead Of A Black Friday Sale
Gado Images/Stockbyte Unreleased/Getty Images
Skincare brand The Ordinary is straying from the norm this season, so to speak. While many a beauty brand is gearing up for Black Friday, The Ordinary's Black Friday 2019 sale isn't happening. In fact, The Ordinary and DECIEM (The Ordinary's parent company) won't be operating on Friday, Nov. 29, AKA Black Friday.
According to a press release shared with Elite Daily, The Ordinary will be closing all store locations globally, as well as shutting down their website, for a moment of "nothing-ness." "We no longer feel comfortable being involved in a single day so heavily focused around hyper-consumerism," the press release stated.
The brand's decision to sit out from participating in Black Friday came as a result of a number of things. First, the brand claims it wants to avoid over-saturation of sales on one of the biggest shopping day of the year. Second, because The Ordinary admits that, in the past, they've been unable to uphold the level of customer service they're used to. "In 2017 Black Friday crashed our servers three times and it took us 80 (versus the plan of 15) days to fulfill all orders," read the press release. This year, the brand has decided to take a different, much more laid-back approach.
Even though The Ordinary will be closing its doors (and site) on Black Friday, you can still expect deals from the brand throughout the rest of November in preparation for holiday shopping (or just gifts for yourself). The already-super-affordable brand will run a month-long 23% discount in-stores and online on all products. (DECIEM will offer the same discount across its entire portfolio for the month as well.)
By running a month-long sale, the brand hopes to encourage customers to purchase skincare products that suit them, instead of purchasing on impulse, especially on a day that isn't particularly eco-friendly. "This year we want to reinvent how consumers interact with consumption. We aim to produce fewer emissions, use less water, and in turn, reduce our impact on mother nature," the brand said.
Considering most of The Ordinary's products are already less than $10, the 23% discount means even more affordable prices. To put that in perspective, one of the brand's hero products, the AHA 30% + BHA 2% Peeling Solution, is on sale for less than $6 throughout the rest of November.
So, if laid-back shopping and low prices are more your vibe than crazed Black Friday shopping, then head over to TheOrdinary.com this November to shop amazing skincare at even better prices.