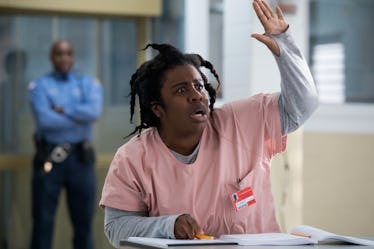 The 'Orange Is The New Black' Season 6 Opening Was Unlike Anything We've Seen Before
Netflix/JoJo Whilden
If you ever wanted to see the world through Suzanne Warren's eyes, the Orange Is The New Black Season 6 opening gives you that very chance. In a surrealist kick-off to the dramedy's latest installment, the initial scene focuses on her absurd, yet poignant dream sequence. A dream that puts the spotlight on the fellow Litchfield inmates she's — and loyal viewers of the series have — come to know over the past few years. Now, in the aftermath of last season's tumultuous riots, what has become of Suzanne's "friends"? The future is uncertain, but there's always our imagination to keep us company. Even if what we're seeing is a little unnerving. Spoilers ahead if you have not seen the first episode of Orange Is the New Black Season 6.
Season 6 opens with Suzanne's voice singing a familiar tune modified to fit her current existance. Instead of "The Wheels on the Bus" (they go round and round, remember?) her particular song is: "The driver on the bus goes shh, shh, shh." She's frantically moving about her new cell, frenzied and clearly concerned with getting her story straight (presumably regarding the events that transpired during last season's riots.)
"May I watch TV now?" she addresses to seemingly no one, looking directly at the camera hinting that perhaps she's asking for the viewer's permission. Her childlike disposition is at a heightened pitch, as she sits curled up and wide-eyed in front of a device that doesn't exist and mimes flipping on a remote. So, what does she see when the fictional boob tube switches on? A medley of fanciful programs featuring none other than the Litchfield players! Orange Is the New Black has done meta before, but this time it has us watching "television" while we're already watching television... and what a way to reunite fans with the beloved cast mates. So, what Litchfield-centric programming does Suzanne (and the audience) see?
First up is the sarcastic Nicky Nichols (Natasha Lyonne) dressed a dog costume reminiscent of Rolf from The Muppets.
"I bet you're wondering how a nice pooch like me ended up in a joint like this, huh?" she posits while playing a piano.
She then goes on to tell off-color jokes about incest (classic Nicky!) while disparaging her parents playfully as if she's headlining in the Catskills.
Suzanne is in awe of what she's witnessing until she isn't, and decides to change the channel only to find Daya doing a sensual interpretive dance alongside a pair of guards.
"I'm not really a fan of modern dance," Suzanne comments, reminding just how fantastic actress Uzo Aduba's comedic timing is.
Then, It's the Frieda show! The survivalist is dressed as an old school magician putting on a cryptic and disturbing card trick. Next! Thankfully Red is the star of the moment to follow. She's everyone's favorite "Soviet Clown," decked out in a fitting red wig.
"Everything is just fine!" Red's Bozo-like counterpart promises. Is she speaking to us or Suzanne? Doesn't matter, because her words serve as a metaphorical harbinger of what's to come this season, as well as a convenient refesher course on what went down last time watchers saw her:
What could be bad? We have all of our friends with us here. We defeated a monster and he's gonna be in big trouble for all of his monster meaniness, isn't he? Don't be like the mean monster, boys and girls. Be a good friend and a good son or daughter, and remember: It doesn't matter how we got here , as long as we're all together.
That could very well be the mantra for Litchfield inmates considering all they've gone through up to this point. Despite her wise adage, Red then brings out a puppet called "Denial the Crocodile." This scares Suzanne, who changes the channel to discover Piper. Piper is a contestant on Jeopardy whose questions to Alex Trebek's answers all have one resounding theme: "Where's Alex?"
Glimpses of other visions continue to plague and delight Suzanne as the sequence plays out: A boxing match between Gloria (Selenis Leyva) and Maria (Jessica Pimental) and a black-and-white noir musical featuring a Secret Agent in the form of Black Cindy (Adrienne Moore).
Then, suddenly, there's no more fanstasy TV time for Suzanne, but she is dressed like Dorothy from The Wizard of Oz. But that figment of her delusion is short-lived as well. Suzanne's daydream was just that, and the reality of maximum security prison life is about to set in.