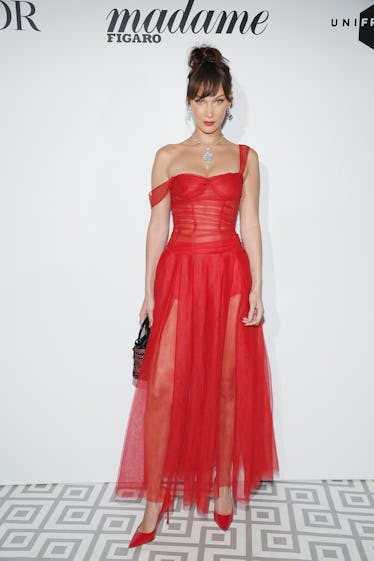 Bella Hadid Just Sported One Of Summer's Hottest Fashion Trends & You Can Too
Pascal Le Segretain/Getty Images Entertainment/Getty Images
As someone who wears a lot of denim and black, interesting silhouettes and accessories are everything when it comes to making my style stand out. This summer, one shoulder dresses, tops, swimsuits, and the like will definitely be infiltrating my wardrobe thanks to their unique neckline. If 2017 was the year of off the shoulder tops, 2018 is going to be the year of the singular cold shoulder. Bella Hadid just rocked the trend in Cannes so yeah, it's legit.
Strap styles and neckline shapes have long defined fashion eras. In the '50s, square necklines were all the rage. In the '70s, crewneck ringer tees held court. The '90s were overtaken by spaghetti straps, and collared polo shirts were somehow the it style of the early aughts. (Fashion is weird.) Over the past handful of years, however, more inventive necklines — in other words, those that play with things like symmetry and cut — have gone mainstream, and I am all about it. The latest of which is, of course, the one shoulder top.
Although I've mostly seen the trend within swimwear (I'm in the market for a one shoulder one piece swimsuit), it's definitely starting to heavily permeate the ready-to-wear market. Whether cut from stripes or florals or lined with ruffles or ties, one shoulder styles are quickly becoming the coolest must-haves du jour. Here are a few of my current favorite market picks.
Good Sport
Sporty swimwear is cool for summer thanks to the everlasting athleisure trend, and this bikini fits the bill perfectly. Featuring striped bands and a one-shoulder top, it's the perfect balance of sleek and simple.
All Frills
This dress is Romeo and Juliet-meets-ethereal hippie and I am so in love with it. From the intentional drooping sleeve to the layered skirt to the asymmetrical hemline, it's got a lot of interesting design elements going on that all come together in a beautifully cohesive way. This would be the perfect look to wear to a summer wedding.
Candy Striper
The perfect top to throw on with denim anything.
Blue Crush
Crushing on this swimsuit! I think I found my one shoulder one piece. The tummy cutout adds a cool geometric detail...and maybe not-so-cool tan lines, but hey.
Emoji Me
With red lipstick and gold hoop earrings, this ruffled top would be the perfect going piece.
Orange You Glad?
Whether you've got brunch plans in the city or a garden party to attend, this orange and purple dress will do the trick! The color palette is awesomely eye-popping and the bell detail at the bottom of sleeve gives the dress a slight bohemian vibe.
What's Old is New
Whenever I can buy vintage, I do, which makes this reclaimed jumpsuit 10 times better. It's got a cool floral print and oversized ruffle neckline, while its cropped legs would pair perfectly with a pair of statement shoes.
Ready or Knot
For when you want to really turn up the heat, there's this red bra top. It features a cool twisted design and looks like it could be made out of a singular scarf. Fire.
Surf the Net
Edgy, sexy, and sporty, this one piece swimsuit is all kinds of cool. Featuring see through panels and a singular short sleeve, it's super modern and could just as easily be worn as a bodysuit.
Little White Lines
I mean. Yes. If you're looking for a piece that straddles the line between sporty and chic all get out, this maxi dress is it. It's white strap and hip tie add cool architectural details, while the circular gathered cutout is unlike anything I've ever seen on a non-designer dress.