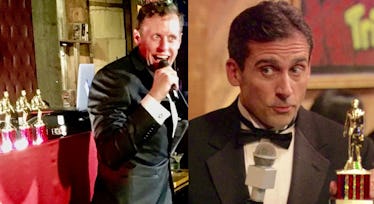 I Drank Chili's Margaritas & Played 'The Office' Trivia At The Real-Life Dundies
Courtesy of Collette Reitz/NBC
If your normal bedtime routine includes queuing up one of the 188 episodes of The Office available on Netflix, then you won't bat an eye when I tell you that I recently drank Chili's margaritas and played The Office trivia at the real-life Dundies. OK, so I wasn't actually in Scranton, Pennsylvania — and Michael Scott was nowhere to be found — but one Chicago bar's recreation of the magical award show emulated the very best parts of the fictional awards. The Office pop-up bar's real-life Dundies nearly transported me right to Dunder Mifflin.
The 2018 Award Show got underway at Replay Lincoln Park in Chicago on Friday, Aug. 17, and I had a front-row seat to the bar's take on the iconic television show's annual award show. Between the corny (and at times cringe-y) jokes from host Mitchell Burgensdt — the would-be Michael Scott character — and the ice in the Chili's margaritas melting down into Pam Beasley's famous second drink, I knew there was a definite possibility that I could feel God at this Chili's-sponsored event.
TBH, the Chili's decor really added to The Dundies atmosphere, even though the hosts weren't able to legally mention the award show or any of The Office characters by name. Even so, with details like Burgensdt's performance being monitored for appropriate language by Rhonda Abrams from legal (à la HR's Toby Flenderson on the show), The Office vibe was very strong.
Oh, and Burgensdt's jokes kept Abrams on her toes right off the bat, what with the host leading off the night with an expected (and totally welcome) Michael Scott-esque joke. Speaking about getting excited, Burgensdt was warned by Abrams to not use a specific word when she reminded him, "You know where I landed on 'boners.'" Of course, he quickly replied, "That's what she said," and the audience laughed in appreciation of the classic quip. Burgendst also introduced Sharon Connors Roy (aka the Pam Beasley of the crew) who acted as secretary/showrunner, and Preston Glasshouse (aka DJ Business Casual) spun the tunes for the night.
It wasn't only the actors putting on The 2018 Award Show who got into character, though. The audience also came very well prepared. Jim Halpert fans got a double dose of the paper salesman thanks to Ryan and Garis, two Award Show attendees who dressed up as three-hole-punch Jim and formal-dress-code Jim, respectively.
With everyone in place and the crowd hanging on every specifically curated Office-themed joke, The 2018 Award Show was ready to crown some winners. There were actually two ways to win some Office swag and Chili's gift cards. You could either win an award (aka the coveted Dundie) or you could prove your knowledge of all things Dunder Mifflin in a round of The Office trivia.
Some of the more memorable Dundie categories were Most Likely to be the Reason for Mandatory Sensitivity Training, Most Likely to Burn His Foot While Cooking Bacon, and Most Likely To Refuse an Award and Live with a Bunch of Cats.
Although, in a bar filled with people who know intricate details of every single episode (like how paper box snowshoeing is called Flonkerton in the "Office Olympics" episode), the trivia portions of the night were more like an all-group activity. As Burgendst reminded the crowd to let the contestants answer the questions, he quipped, "You all dressed up and came to an Office-themed bar, so there's a good chance you know the answer to all of these questions. Please don't shout them out." Yet, it was hard to not shout "Pretzel Day!" in near unison as the answer to, "What is Stanley's favorite day?"
Even so, die-hard fans of the show were able to battle it out through three rigorous rounds to trivia to win a $250 Chili's gift card. Just think about how many Chili's margaritas that could get you, or as Bergendst referred to them: STDs (sweet tequila drinks).
Not even one too many STDs (sorry, I had to) could knock these trivia contestants off their game. Once the contestants were chosen at random from the eager crowd, they were ready with rapid-fire answers to questions like, "What was Michael's dating website username?" or "What nationality was Kevin in the 'Diversity Day' episode?" The answers were, of course, Little Kid Lover and Italian, respectively. The trivia champ took home the goods when she answered the final question about which German Christmas character Dwight dressed up as in Season 9's "Dwight Christmas." The correct response of Belsnickel led to her victory and the end of the award show.
Thankfully, the conclusion of the award show didn't mean the end of The Office-themed fun. In fact, The Dundies was a part of a Replay Lincoln Park pop-up bar dedicated to The Office from July 24 through Sept. 4.
Even if you couldn't make it to the sold-out Dundies, the pop-up bar still delivered that Dunder Mifflin feel. With drinks like the "Scotch & Splenda" and "7 & 7 & 7" (Seagram's 7 whiskey, 7 Maraschino Cherries, and Sierra Mist), you could totally get your Michael Scott or Kelly Kapoor on.
And there was no shortage of photo ops. With cardboard cutouts of all the main players creating a scene right out of Scranton, a visit to The Office pop-up bar was everything your Netflix streaming sessions prepared your for.
It's no surprise that Replay's pop-up bar drew sold-out crowds to The Dundies not once, but twice (there was an encore performance on Sunday, Sept. 3), because The Office is undoubtedly a fan-favorite show. I'll admit that it initially felt a little bit odd going to a completely Office-themed event, but I realized in no time that it's actually pretty awesome to be a part of a crowd that will understand every joke about whether or not Stanley has a mustache or what show the coworkers gathered to watch in the "Viewing Party" episode.
And hey, if you have a chance to win a Dundie and Chili's gift cards because you know the answers are yes and Glee, respectively, then I'd say that's one heck of a party.