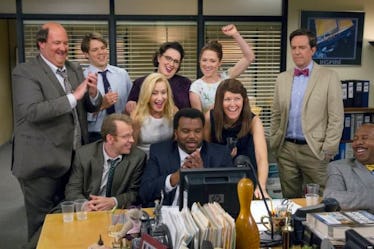 A 'The Office' Musical Is Coming, But Will It Be Better Than 'Threat Level Midnight'?
NBC
The Office was no stranger to song and dance numbers, and if resident theater geek Andy had his way, he probably would have enlisted the entire Dunder Mifflin crew to perform their own musical on a slow day at work. He might not have gotten the chance to tweak his singing skills, but in another universe, Andy may soon have his chance to sing his heart out. A The Office musical is coming, but Michael Scott would probably be reluctant to say it's better than his screenplay Threat Level Midnight.
Opening on Sept. 20, 2018, at New York's Jerry Orbach Theater, The Office! A Musical Parody comes from the creators of similarly epic musical collaborations. Authors and producers Bob and Tobly McSmith have also created FRIENDS! The Musical Parody, Bayside! The Saved by the Bell Musical, and Full House! The Musical. Basically, if you ever heard about a musical mocking a classic TV show that sounds equally bizarre and amazing, these two were probably behind it. According to The Office musical's website, they're even planning out a show called The Passion of the Teletubbies next. OK, so that one just sounds insane, but something as sardonic and fourth wall-breaking as The Office sounds perfect for the musical format.
As of this week, the creative team is still looking for the perfect actor to play Michael Scott, and although they may be saving the best for the last when it comes to casting, the producers seem to want their audiences heavily involved in the final version of the show. On the musical's website, a description of the story reads:
It's a typical morning at Scranton's third largest paper company until, for no logical reason, a documentary crew begins filming the lives of the employees of Dunder Mifflin… Don't miss this hilariously loving lampoon of your favorite TV show! Step into this immersive parody experience and "work" with all your favorite coworkers at The Office! A Musical Parody starting September 20, 2018 at The Jerry Orbach Theater in New York City.
Although it should follow the examples set by its predecessors and reference the original show's greatest moments, The Office! A Musical Parody appears to begin when the documentary crew first began filming the staff at Dunder Mifflin without a genuine excuse why. The thought does allow for a comical setup — after all, with so many mockumentary-style shows out there, how many have ever really explored when the cameras first arrived and the characters adjusted to the concept?
Apart from Michael, the rest of the cast is intact, with everyone but the actors playing Michael and Dwight Schrute pulling double duty and appearing in several roles. Dueling piano player Tom McGovern will play Jim and Andy, while theater veteran Taylor Coriell is set to appear as both Pam and Erin. After playing Phoebe in FRIENDS! The Musical Parody, Katie Johantgen will play Angela and "others." If an actual actor from The Office happens to have a free day in New York, they should totally make a cameo in one of these "other" roles.
Referencing one of The Office's earliest episodes, "Diversity Day," the musical's Twitter account also seemingly opened casting for Michael to "all genders, ages, and races." I definitely wouldn't mind a female Michael Scott — it's a parody for a reason.
According to Broadway.com, the show includes an original score by Assaf Gleizner that has songs such as "Scranton: The Electric City," "Why Is There a Camera Crew?," "Welcome to Diversity Day," and, of course, "That's What She Said!." Get ready for homemade YouTube compilations of these songs accompanying fitting moments from the series. Fingers crossed that this musical extravaganza also involves a reenactment of Jim and Pam's wedding march, but here's hoping that this show gives us all the feels regardless of the special moments it captures onstage.