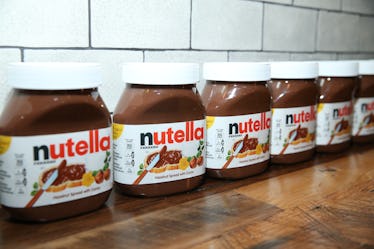 There's An Opening For Taste Testers With The Nutella Company So BRB Quitting My Job
Rob Kim/Getty Images Entertainment/Getty Images
If you've been looking for a way to make a career off of your sweet tooth, you might have hit the jackpot with a brand new job posting. It turns out that an affinity for dessert everything could be a boon to your resume, because the Nutella company is hiring taste testers to sample their confections at their headquarters in Italy. Yes, it's real, and excuse me while I go quit my job ASAP.
Ferrero, aka the company behind Nutella, are reportedly looking to add even more deliciousness to the world, and they need your help to do it. While the posting was first shared on Italy's Open Job Metis website via the confectionary company in Italian, Euronews decided to help English-speaking applicants get in on the opportunity by translating the whole posting. News flash: It sounds even better than I expected.
According to the publication, ideal candidates are listed as people who would like to learn "how to taste cocoa, hazelnut powder and other semi-finished sweet products" like the ones used in the company's Nutella, Ferrero Rocher, and Kinder Bueno products. Is it just me, or are you wondering where this position has been all your life?
Per the posting, Ferrero will be hiring 60 different tasters to sample all the creations they are dreaming up at the company's headquarters in the Northern Italian city of Alba. The job will start in September, which means that you'll have a few months to say your goodbyes and pack up your bags before embarking on a three-month-long paid training where you can "educate the sense of smell and taste and improve the ability to express in words what they perceive with the tasting of semi-finished products." The best thing is that not only will you be tasting a lot of hazelnut chocolate spread, but you will be being paid to taste a lot of hazelnut chocolate spread. It's a win-win situation.
If that doesn't sound tantalizing enough, there's more to the fine print. If you're one of the finalists after the paid training course, you'll have plenty of time to explore the surrounding areas and truly live la dolce vita in Northern Italy, as you'll only be required to head into the office four hours per week. That means you'll have plenty of time to explore Italy's other culinary offerings in the name of research.
One caveat I see to this dream job situation is that it might be hard to support yourself working just four hours a week, so I'd dig into your rainy day fund or maybe get a second job on the side if you're planning to make your stay in Italy a permanent one. The second potential bump in the road is for candidates without a working knowledge of Italian. I'd recommend brushing up on some basics and at the very least learning the word for "Delicious" before you submit your application.
However, considering that the company tweaked its Nutella recipe just last November (whey powder was switched out for milk powder) and the world is running low on hazelnuts because people simply can't get enough the smooth chocolatey spread, there's definitely room for change. You could have the potential to make the beloved confection even more delicious while living your best Italian life. It's almost as tempting as the Nutella itself.