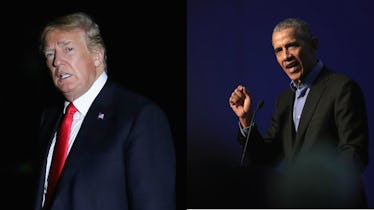 I Looked At Women In Trump's Administration Compared To Obama's & It's So Bleak
Mark Wilson/Getty Images News/Getty Images & Scott Olson/Getty Images News/Getty Images
Let's face it, there's nothing more revealing about a president than their administration. In order to ensure that one does their due diligence as leader of the United States, it's important to have an inclusive, diverse team to give opinions and thoughts. Well, judging from looking at the women in Trump's versus Obama's administrations, I'd say that one president isn't getting the benefit of those diverse experiences.
In March, Donald Trump named Gina Haspel as his pick for the next director of the CIA, making her the first woman to ever assume the role. This may appear as progressive at first, but don't get too excited. According to The Atlantic, Donald Trump's Cabinet, which has 24 members, is composed of 19 men compared to five women. In addition, out of the 75 different organizations departments, boards, and commissions within the government, men make up half or more of the majority of them, as of March 2018. This is a stark difference from former president Barack Obama, who named seven women as top official appointees in 2009 alone.
Despite these numbers, The Republican National Committee (RNC) took to Instagram in March to brag about Donald Trump appointing a high number of women to senior advising positions even though CNN reported that Trump only has five women serving Cabinet or Cabinet-level positions in his administration, including current Education Secretary Betsy DeVos and current Transportation Secretary Elaine Chao. In addition, Trump has appointed four other women in higher ranking roles, one of which is his very own daughter Ivanka Trump as special adviser. However, Trump's recent nomination of Gina Haspel as Director of the Central Intelligence Agency bumps up that number.
The post read,
Contrary to mainstream belief, @realdonaldtrump has appointed more women to senior-level government and campaign positions than previous administrations. He's empowering ALL Americans with his winning agenda. Take a look at some of these leading ladies.#WomensHistoryMonth
In December 2017, Donald Trump's senior adviser Omarosa Manigault Newman resigned from the administration. Even though Trump losing a member of his administration isn't necessarily news anymore, Newman's exit was still very significant. With her resignation, Trump officially doesn't have a single black, female senior adviser on his team. Newman was a former contestant on Trump's reality television show The Apprentice and served as director of communications for the White House Office of Public Liaison until her resignation.
So that's Trump, now let's look at Obama. According to Business Insider, during Obama's first term in office, over 30 percent of Cabinet positions were held by women, with seven serving in his 22 member Cabinet. That number raised to 35 percent in his second term. Among them were Secretary of Labor Hilda Solis, who served from 2009 to 2013, Secretary of Homeland Security Janet Napolitano, who served from 2009 to 2013, and senior adviser Valerie Jarrett. (Jarrett was recently was the subject of Roseanne Barr's controversial racist tweet, which compared the former adviser to an ape.) And of course let's not forget Obama's one-time primary opponent, Hillary Clinton, who served as secretary of state from 2009 to 2013.
To be honest, these numbers don't really surprise me. It's no secret that Donald Trump has a history of controversial statements when it comes to the subject of women. In October 2016, during his presidential campaign, Donald Trump was caught on video boasting about grabbing women without their consent. The video, which was obtained by The Washington Post, dated back to 2005, and Trump was seen talking to Access Hollywood's Billy Bush about the "perks" of being a male celebrity.
He said,
I've gotta use some Tic Tacs, just in case I start kissing her. You know I'm automatically attracted to beautiful — I just start kissing them. It's like a magnet. Just kiss. I don't even wait. And when you're a star they let you do it. You can do anything... Grab them by the pussy. You can do anything.
Sadly, this is just one of a few offensive things Trump has stated about women. During an interview with New York Magazine in 1992, Trump basically laid it out on the table about how he feels about the female gender.
"You have to treat 'em like shit," Trump said.
Trump may not find the need to realistically represent women in his administration, but that won't stop us from stepping forward for what we believe in. Trump's presidency may not be the best representation for women, but there are others stepping in to fill the gap. Organizations such as The Women's March have ignited a fire within women all over the nation to stand up and make our voices heard.
Sorry about it, Trump.