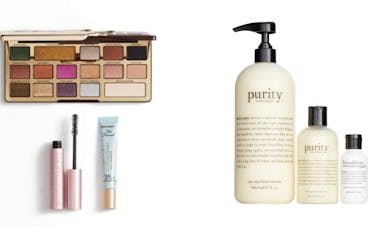 450 New Beauty Sets From Top Brands Are Going On Sale At Nordstrom & The Discounts Are Epic
Nordstrom
In the realm of major beauty sales, there's one that rises to the top in terms of slashing prices on some of the most coveted beauty products. If you live for a good bargain, you're probably familiar with the Nordstrom Anniversary Sale. Well, ladies (and gents), I'm pleased to report that the Nordstrom Anniversary Sale 2018 beauty buys are amazing. And the sale is here!
Well, the sale is sort of here — at least if you're the owner of a Nordstrom Rewards card. People with the membership can get early access to the Anniversary Sale on Thursday, July 12 and start shopping at this very moment. BRB, signing up now.
The rest of us will have to mark our calendars for next Friday, July 20 before we can get in on the major Anniversary Sale savings. But don't fret! There are virtually zillions of products to snatch up, so there's bound to be plenty of beauty bounty for non-members when our time comes.
The department store is offering over 450 exclusive-to-Nordstrom beauty products and sets — many from really, really luxe brands. Seriously: If you've ever wanted to splurge on a Diptyque candle or a Charlotte Tilbury palette, now's your chance.
This year's Nordstrom-exclusive sets are ridiculously well-curated. I was lucky enough to take a sneak peek at a large portion of the offerings, and I swear to you — it's as if someone hand-picked the best beauty products in existence, smooshed 'em together into really pretty, compact packaging, and slashed the prices way down. After all, that's essentially what the Anniversary Sale entails. Not only do I want every. single. set, but also I'm thrilled by all of the gift-giving potential that the sets provide. The holidays will be here before we know it, and I'm totally taking this chance to actually get ahead on my holiday shopping this year. After all, who wouldn't want brands like MAC, GLAMGLOW, Kiehl's, Bobbi Brown, and so many others gifted to 'em at a secret santa exchange?
Aside from the incredible assortments of color cosmetics, skincare, and fragrance, I'd be remiss not to mention the stellar lineup of galactic-looking beauty tools that are part of this year's sale. Now would be the time to splurge on that fancy microneedling tool you've been eyeing (love ya, GloPRO!).
Without further ado, feast your eyes on some of the most lavish, gorgeous beauty savings of the year:
YSL Pink Lip Set ($107 value for $74)
Voila! The prettiest shades of pink in three different finishes.
Viktor & Rolf Bomblicious Body Lotion ($106 value for $70)
This fragrance is a classic for good reason. Why not double up by layering it overtop its lotion version?
Voluspa Maison Blanc Mini Tin Candle Set ($24 value for $15.90)
These are actually too cute for words. They'd make adorable gifts, but I think I'd have a hard time parting with them...
Too Faced Sex, Gold, and Chocolate Set ($92 value for $49)
The cult-classic mascara and eyeshadow primer with a side of chocolate-scented shadow. Mmm.
Slip Pure Silk Queen Pillow Case Set ($158 value for $110)
I swear by sleeping on silk for extending the life of blowouts! If nothing else, these just make me feel like royalty.
Stila Good To Glow Liquid Eyeshadow Set ($72 value for $35)
Gold, bronze, and rose gold-gilded lids in one swipe. Plus, these guys last for ages.
Oribe Gold Lust Traveler Set ($124 value for $83)
So you can make sure your $$ shampoo doesn't get confiscated at TSA. (Plus, hotel shampoo is the worst!)
Sunday Riley Triple Treat Set ($78 value for $49)
Three of my absolute favorite skincare products in one lil set.
Philosophy Purity Trio Set ($87 value for $55)
There's no such thing as too much of this classic philosophy scent! Time to stock up!
OUAI Summer Faves Set ($56 value for $32)
Yes, ouai! The rose oil is an absolute must (and it can be used on your body, too).
NARS Undressed Liquid Lip Set ($104 value for $49)
The value on this set is jaw-droppingly good.
MAC Idols Mini Lipstick Kit ($50 value for $32)
Teeny tiny, but still mighty in pigment!
GLAMGLOW X BECCA We Know Glow Set ($32 value for $43)
For that blindingly bright highlight.
ghd Platinum Professional Styler ($249 value for $166)
It's rare that this baby goes on sale. Get it while it's hot! (See what I did there?)
Diptyque Candle Set With Boxes ($75 value for $55)
We would be instant best friends for life if you gave me one of these adorable candles.
Dior Addict Coral Glow Set $95 value for $70
These lippies are undeniably fantastic. The bag is a super-cute touch.
Again, you can get in on the 2018 Anniversary Sale starting Friday, July 20, through August 5 on Nordstrom.com and in store. And here's a little tidbit that I just learned: if you decide to online shop, there's freeeee shipping! No minimum!