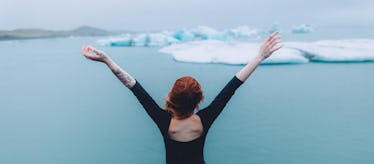 This App Will Make Your Dream Trip To Iceland A Reality With Little Effort On Your Part
It's an incredible feeling going on an awesome vacation, but what about the months leading up to your trip? On the one hand, you're full of excitement and shopping for the cutest outfits. On the other hand, there's so much to do, and the time goes by fast. Planning everything out — from flights, to accommodation, to the best restaurants and excursions — can be difficult. There's an endless amount of resources online, but all of the blogs and websites can honestly feel overwhelming. What if you could just show up to your destination with an epic itinerary in hand that required little effort on your part? Well, now you can. Meet the Noken app — it will help make your dream trip to Iceland a reality this winter.
Iceland is the ultimate bucket list destination, and I can totally see why. The country is full of otherworldly landscapes, breathtaking waterfalls, and endless rainbows. The natural beauty in Iceland makes it majestic for all who visit. Needless to say, this isn't your standard destination, so planning a trip here may take a bit more research and effort than usual.
Noken has you covered. It's an amazing travel resource that features custom itineraries to Iceland, Japan, and Portugal, in addition to a mobile app, so that all you have do is show up and prepare to have a good time. Don't worry — they curate balanced trips that include a mix of popular spots and hidden gems so that you can discover a new country in the best way possible.