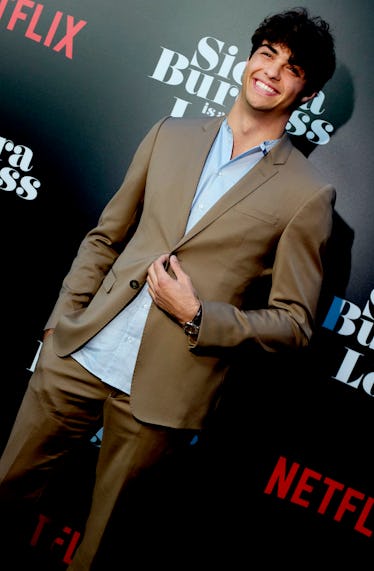 Noah Centineo Has His Own Snapchat Lens Now, Because He's The Internet's Boyfriend
Frazer Harrison/Getty Images Entertainment/Getty Images
Thanks to the recent news that Noah Centineo has been cast in the reboot of Charlie's Angels, everybody's fave Netflix star is about to blow up big time. I mean, we've been obsessed with him since he won our hearts playing Peter Kavinsky in All The Boys I've Loved Before and Jamey in Sierra Burgess Is A Loser. But now he's slated to hit the big screen sometime in 2019 — which means, like, adults are going to know all about him, too. Luckily, there's a Noah Centineo Snapchat lens created by someone in the Snapchat community that will let us keep our internet BF close to our hearts before he makes his feature film debut and the whole world falls in love with him. Thank you, kind Snapchat user!
If you just opened up Snapchat on your phone before you even finished reading that first paragraph — and 1) I don't blame you and 2) I ain't judgin' — then you're probably feeling a little bummed right now because you didn't find the lens just casually hanging out in your carousel. Trust me, it's there — you're just gonna have to work for it a little using Snapchat's Lens Explorer feature. But don't worry, I got you!
OK, so here's what you need to do:
Open up Snapchat
Activate your lens carousel by opening up the front-facing camera and holding long-pressing on your face
Click on the little smiley face icon on the bottom towards the right to open up Lens Explorer
Search for "Noah lens"
Click "Try lens"
Voila — you've now got a crown of mini Noahs on your head!
It's so good, right? I mean, what's better than a crown of mini Noahs? Um... nothing. Nothing is better than a crown of mini Noahs. And P.S. I am so feeling this for a Halloween costume this year.
As for the Charlie's Angels reboot, we legit have zero clue as to what character Centineo will play, but fingers crossed that he gets to be some kind of evil villain hellbent on destroying the world. Just kidding, you know he's totally going to turn out to be the hot, milkshake-drinking love interest of one of the Angels.
Oh, to be that straw!
Anyway, here's what we do know: The iconic reboot will star Kristen Stewart, Naomi Scott (Power Rangers, Aladdin), and Ella Balinska (Midsomer Murders) as the next generation of *ss-kicking Angels, replacing the OG trio made up of Cameron Diaz, Drew Barrymore, and Lucy Liu.
Big shoes to fill, ladies!
Oh and get this: The new movie will split the role of Bosley — which was brilliantly inhabited by Bill Murray back in Y2K — into at least three different people played by Patrick Stewart, Djimon Hounsou, and Elizabeth Banks, who will also be co-writing and directing the reboot.
Meanwhile, Centineo is not the only recent addition to the film. There's also Sam Claflin (The Hunger Games: Catching Fire), Jonathan Tucker (Westworld, Kingdom), and Luis Gerardo Méndez (Club of Crows). And as you can imagine, the internet is freaking out over the casting news.
Same, Barb. Same.