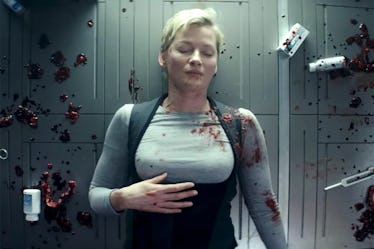 The Teaser For George R.R. Martin's New Show Is Here & 'GOT' Fans Should Be Pumped
SyFy
Fans of broadcast TV might have noticed a large swell at the end of last week as networks announced show cancellations and renewals. This yearly event heralds what is known as "Upfronts Week," which is when your friendly local channels invite all the advertisers and reporters to take a gander at what they're bringing to the small screen next year. This morning, it was NBC's turn. NBC owns the SyFy Channel, whose biggest premiere next fall is George R.R. Martin's Nightflyers, and as part of the presentation, the newest Nightflyers teaser arrived for both advertisers and fans to watch.
For fans of HBO's Game of Thrones who have been waiting for word on the multiple prequels currently in process, please be advised: Nightflyers is not any of those. Any official Game of Thrones prequel will air on HBO, not SyFy, and the scripts are still in process of being read and considered by the network anyway.
Nightflyers is based on a completely different series Martin wrote, back in the early 1980s, and it is not set in the world of Westeros at all. But fans of GRRM's work will not be disappointed. In fact, seeing a Martin story told outside the high-fantasy realm might be just the follow-up the doctor ordered.
Check it out:
Martin wrote the original novella in 1980, featuring a crew on a mission set in 2093. Aboard the ship (called "The Nightflyer"), there's a group of scientists as well as a powerful telepath. Their mission: make contact with a mysterious alien life form believed to be hiding at the edge of the solar system.
According to Entertainment Weekly:
As they race towards first contact, terrifying and violent events begin to occur, causing the once tight-knit crew to mistrust each other. It's not long before their main mission becomes survival.
Note the wording on the teaser is "From The Mind of George R.R. Martin." That's because unlike Game of Thrones, where Martin was intimately involved with the adaptation, to the point where he wrote a script a season for the first four years, Martin gave his blessing to SyFy and NBC to adapt his work, but he hasn't been directly involved with the production. Instead, the series was written by Jeff Buhler (Jacob's Ladder), who is also showrunner and executive producer.
Martin's contract with HBO forbids him from working directly with rival production companies, even though he can license his work to them for adaptation. Nightflyers is being produced by Universal Cable Productions, which is part of the NBC Universal-Comcast umbrella.
Here's the earlier trailer released by SyFy back in March. It's about the same length as the one released today, but it gives at least a little bit of a hint of the plot.
This is the second adaptation of Nightflyers since the original story came out. In 1987 there was a movie of the same name. Martin was not happy about the whitewashing of his favorite character though and has said on his NotABlog he looks forward to seeing her done right this time.
Nightflyers may only be a novella, but there is plenty of material for SyFy to adapt if the show is a monster hit in the vein of Game of Thrones. The story is part of Martin's Thousand Worlds series and includes serval other of Martin's short story works including Dying of the Light, Sandkings, A Song for Lya, "The Way of Cross and Dragon" and the stories collected in Tuf Voyaging.
Some fans have even theorized Planetos might be part of the Thousand Worlds universe as well. (Planetos is what Martin enthusiasts have named the planet upon which Essos and Westeros sit, for lack of anything better to call it.)
If so, perhaps it will turn out it's all connected. Fans might as well tune in this fall to find out. It's not like there's anything new from Westeros until 2019 anyway.