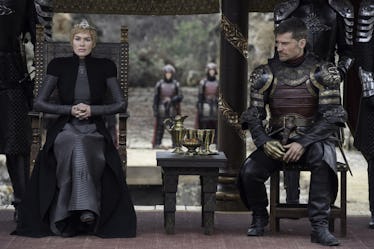 The CEO Of HBO Talked About Those 'Game Of Thrones' Prequels, But Don't Get Excited Yet
HBO
Game of Thrones Season 8 may be taking a far longer time to film their final six episodes, but there's another reason HBO is dragging its feet and delaying the final run of the series until 2019. Once it's over, it's over. When the show first arrived in 2011, HBO didn't know it would become the channel's flagship series, but a decade on, it's almost like HBO doesn't know what to do without it. And listening to CEO Richard Plepler's comments on the Game Of Thrones prequels suggests there are too many moving parts for anyone to trust anything yet.
Plepler was asked about Game of Thrones recently on Variety's "Strictly Business" podcast, a show that goes behind the business of television and filmmaking. In it, he admitted when showrunners David Benioff and Dan Weiss came to the network with the proposal, there were a lot of doubts. High fantasy just wasn't the channel's usual fare. Frankly, in 2008, it wasn't really any TV channel's usual fare.
And the way [Benioff] pitched it was he said, 'Look, this is about power, and it's about archetypes of power. And it's Shakespearean, it's Biblical. If you just forget where you are, you could be in 10th century France, it doesn't really matter.' And we believed their vision.
But with the show ending, the question is what to do next. Currently, HBO has Westworld, which has a lot of the same elements as Game of Thrones. It has the deep philosophical subtext for thinkpieces to discuss, and also puzzles and twists fans can obsess over. But in terms of engagement (and ratings), Westworld just isn't Westeros.
HBO has to replace the series with something. That's why they're working on finding a prequel series on an unprecedented level. Most channels, when a hit show finishes, green light a spinoff. If it's a really big show, the network might try for two. HBO greenlit four, and then a fifth as if they were concerned none of the first four would pan out.
Over the last year, there have only been tidbits here and there over how these five series are looking, with a few scriptwriters working on the project declaring they can't say anything. But a year on, things are moving along. Though Plepler doesn't want to give away details, his statement confirms all five series have moved along to the next stage in the process.
We're looking at a range of different pilots right now.
So, this means that the writers have all finished their pilot scripts and submitted and HBO is reading them over and deciding how many of these they will move on to the next phase.
HBO could decide none of the scripts are good enough and send them back. Or, they could have some (or even all) move forward. The way fans will know when that happens is that there will be an announcement that group A or B is putting together a production team, hiring showrunners and moving forward with casting.
At that point, it will get harder for HBO to keep things under wraps. Casting announcements are the lifeblood of trade magazines, and even if there are few details and no titles, every actor cast in any Still Untitled HBO GoT Spin-Off Project will get analyzed to death by Reddit.
And once filming starts? Forget it. If you thought Game of Thrones filming junkies posting photo spoilers on Twitter was bad before, it will be chaos for any on-location shoot, unless HBO ponies up for heavy security, a huge expense for a show that might not even be picked up for a full season.
HBO is going to take its time with this process. Game of Thrones still has months to go before they wrap the final season, and chances of anyone being moved forward before that happens is slim to none. So, until HBO is good and ready to move to the pilot filming stage, fans will just have to wait.
Game of Thrones will return to HBO when it gets around to it in 2019.