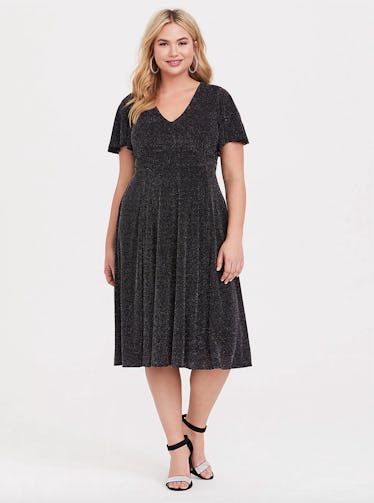 Torrid Is Offering 30 Percent Off Site-Wide But Hurry, The Sale Ends Soon!
Torrid
When you've found a brand you know and love it makes sense to keep an eagle eye on their website and look out for any deals they might be offering. PSA: the next Torrid sale is actually happening right now, so open up a new window stat and get to shopping! The retailer is offering 30 percent off absolutely everything on its website right now, which means you can score a shimmery New Year's Eve dress or a new pair of jeans at just two-thirds of their normal price. The catch? The sale ends TONIGHT, so don't sleep on filling up your cart and checking out!
In order to get the deal you have to do, well, absolutely nothing. No code is needed upon checkout and you don't need to be a rewards card holder. This sale really is as simple as it sounds, so why wouldn't you want to get in on the savings? In case you've never shopped on Torrid before it stocks an incredible range of trendy ready-to-wear in sizes 10 to 30 and has everything you could possibly need for the holiday season and beyond. Below is a small sampling of Torrid's cool offerings but you'll definitely want to browse them in depth on your own.
Cold Shoulders
Sweaters can be both comfy and flirty, as exemplified by this back knit featuring shoulder cut-outs. Dress it down with blue jeans or up with statement earrings and a skirt.
Crop To It
Cropped denim jackets are super versatile and classic, so why not add a black iteration to your wardrobe?
Glitter Girl
Did you just find your perfect New Year's Eve dress, or what? The shimmery fabric, full skirt, and deep V neckline all come together to create one stunning look.
Don't Sweat It
Its perforated details add some cool texture and pattern.
Hug Me
Just looking at this faux fur coat makes me feel warm, fuzzy, and fashionable AF. I love the collar and relaxed silhouette. It's basically like a wearable teddy bear.
Mad For Plaid
Plaid is pretty much a requirement when it comes to fall and winter wardrobes and this classic button-up is a perfect staple piece.
Wild Thing
Now this is a fierce dress! From its off-the-shoulder neckline and ruched bust to its body con fit and cheetah print, it screams big night out. If it's cold out, pair it with black tights and booties. In the summer, wear it with chunky sandals for an equally cool look. Let it replace your favorite LBD.
Warm Thoughts
A puffer coat you'll actually want to be seen in. It's maroon color will set it apart from the sea of black coats that overtake the streets in the winter, while its quilted design will ensure you'll stay warm all day and night long.
Moon Child
This airy black blouse features mini metallic moons and is part bohemian, part edgy. I love the criss-cross detail on the neckline and would wear it for any night out.