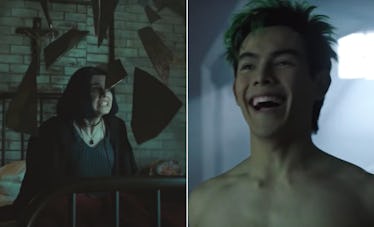 The New 'Titans' Trailer Gives Fans The Best Look Yet At The Teen Titans' Superpowers
DC Universe
We are finally seeing how DC Studios is bringing the Teen Titans' superpowers to life in the latest trailer for the upcoming live-action adaptation simply called Titans. Whereas the show's first trailer focused almost exclusively on the team leader Robin, the new trailer gives us a better look at what the rest of the superhero team can do in this gritty adaptation of the beloved comic-book and animated series. Check out the new Titans trailer to see the Teen Titans in action.
The second Titans trailer reveals that Dick Grayson has relocated to Detroit following his split from Batman, where he has taken a job as a police investigator and recently resurfaced his superhero alter-ego Robin. During his detective work, he meets the troubled Rachel Roth, who is coming to terms with the fact that a powerful demonic presence exists inside of her. With a mysterious group hunting her down, Rachel asks Robin for help, and he takes her to see "some old friends" of his. Namely, the alien princess Starfire and the green shapeshifter Beast Boy.
The trailer goes on to feature the Teen Titans showing off their powers. Beast Boy transforms himself into a ferocious green tiger, while Starfire burns down a building with her intense starbolt blasts. Rachel, A.K.A. Raven, also briefly unleashes her shadowy powers in front of the group, but for the most part, it seems that Raven will not have much of a handle on her powers for the first season of Titans.
Check out the new trailer below:
Oh, and you probably noticed that the trailer advertised that Titans will be available on Netflix. Unfortunately, it is only going to stream on Netflix internationally — within the United States, the series will only be available on DC's new streaming service DC Universe.
Along with featuring the Teen Titans' powers, the new trailer also touched on Robin's backstory, as he reveals that he stopped working with Batman because they did not see eye-to-eye on how to fight crime. Since Titans is being billed as a bloody, gritty, TV-MA adaptation of the superhero team, it may be safe to assume that Robin's statement meant he was looking to get more violent than Batman was comfortable with. The trailer also gives us another look at Minka Kelly as Dove, who will ally with the Titans along with her aggressive boyfriend Hawk.
Titans promises to be a completely different look at the Teen Titans superhero team, which has become best known for being part of the more fun-loving, child-friendly side of the DC Entertainment Universe thanks to the mid-2000s WB series Teen Titans and the currently running Cartoon Network series Teen Titans Go. The new series is completely flipping those animated shows on their head and plunging deep into the heaviness, darkness, and grit that have become somewhat emblematic of DCEU films for the past several years.
Though it will stream, Titans will follow a standard weekly release schedule. The premiere episode of Titans will drop on Friday, Oct. 12 on DC Universe.