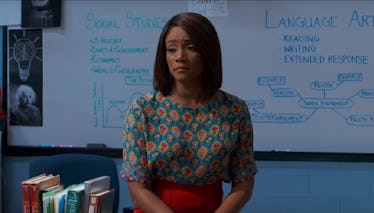 Kevin Hart & Tiffany Haddish Are Hilarious In The New Trailer For 'Night School'
Universal Pictures
In case anyone somehow wasn't aware of who Tiffany Haddish was, she essentially won over America when she charmed the red carpet and later the ceremony audience at this year's Academy Awards. After gaining more fans through her entertaining award season antics, Haddish's role opposite Kevin Hart in the upcoming comedy Night School ought to be hilarious. The new Night School trailer is here, and I'm already stoked for Haddish and Hart to play off of each other.
Following the original trailer's release in April, the second Night School trailer offers some new scenes of the comedy, which is due in theaters on Sept. 28, 2018. The clip introduces Hart as Teddy, an ordinary guy who has to attend night school in order to receive his GED. Haddish stars as night school teacher Carrie, doing her best to keep her non-traditional students motivated in their studies. If the students fail the "big test," they'll be forced to leave the GED course, and Carrie will go as far as beating them up to nail the facts into their heads. Think of any sitcom episode where the class clown has to pass the math test and the brainiac tutors him — Night School sounds like a more adult cinematic version.
I don't know about you, but I am here for Haddish's Carrie being the teacher that "just likes to wear blouses."
The comedy marks Haddish's reunion with Girls Trip director Malcolm D. Lee, but working alongside Hart has special significance for her. As she revealed in several interviews last year, Hart gave her $300 when she was homeless and living in her car. Hart, who also produced Night School, shared his side of the story on Instagram, writing:
I asked her what was going on and she down played [sic] the situation. I reached in my pocket and gave her all the money I had which was $300 at the time. She held onto that moment... That moment gave her a bed & shower for a couple of nights. This woman never let her life situation beat her. She stayed true to her dreams and bust her ass to get where she is today.
If that simple act of friendship wasn't enough to make your day, Haddish's perspective is even sweeter, telling Vanity Fair this January:
He gave me a job on Real Husbands of Hollywood, and I kept trying to give him his $300 back. He's like, 'I don't want that money. You keep that money. If I need you to be in something else, you just make sure you can do it.'
This story speaks wonders about how well the two will meld onscreen together, but they have a talented cast accompanying them in Night School. Former Saturday Night Live star Taran Killam and Parks and Recreation actor Ben Schwartz are in the cast, along with Rob Riggle, Romany Malco, and Mary Lynn Rajskub.
While Hart has kept busy recently with roles in Captain Underpants: The First Epic Movie and Jumanji: Welcome to the Jungle, Haddish already has a packed summer ahead of her. She'll host the MTV Movie & TV Awards on June 18, but she also has a long list of projects in store, including The Kitchen and The Secret Life of Pets 2. Haddish clearly took Hart's move of encouragement all those years ago to heart, and it paid off in the end.
We have a while to go before Night School is in theaters, but I'm keeping satisfied with the thought of Hart and Haddish's press tour for this movie. Can you imagine all of the GIFs and viral videos that will come out of their unscripted appearances together?
Night School is in theaters on Sept. 28.