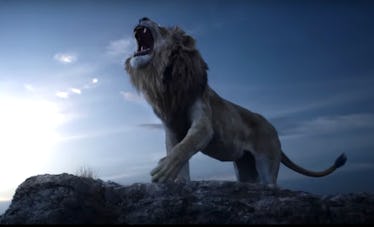 'The Lion King' Already Broke A Disney Record Just With Its Trailer
Disney
We are not even done with 2018 yet, but it already looks like we know what the biggest movie of 2019 is going to be. While you were chowing down on turkey and mashed potatoes at Thanksgiving dinner this past week, Disney released its very first trailer for its upcoming remake of The Lion King. And with only a minute-and-a-half clip of footage out, the new Lion King trailer already broke a Disney record in viewership numbers, proving everyone all over the world is super ready to head back to the Pride Lands.
Although the new Lion King trailer premiered on Thursday afternoon during Thanksgiving dinner, families everywhere must have taken a break from their turkey to check out the teaser trailer, because the video clip officially became Disney's most viewed trailer within its first day of release. According to Variety, the trailer received 224.6 million views around the globe in its first 24 hours online, making it Disney's most watched trailer within a day of release. It also clocks in as the second most watched trailer within a day across all studios, only being beaten out by the 238 million views that the Avengers: Infinity War trailer received at the end of 2017.
The new Lion King trailer works on both a nostalgic and technological level. Rather than jumping around between scenes in the upcoming movie, like a normal trailer, the Disney clip simply recreates one of the most iconic scenes from the original 1994 cartoon: the "Circle of Life" opening in which various animals gather around Pride Rock as Rafiki presents a newborn Simba. The only voice in the trailer is James Earl Jones as Mufasa, informing Simba that soon it will be his time to rule over the Pride Lands. Check out the full Lion King teaser trailer below:
The trailer definitely has fans pumped for this new, realistic, CGI-filled retelling of the Lion King story, but we are still waiting to see any of the characters actually speak. The new movie boasts an impressive cast, starring Donald Glover as Simba, Beyoncé as Nala, Chiwetel Ejiofor as Scar, Billy Eichner as Timon, Seth Rogen as Pumbaa, John Oliver as Zazu, and Eric Andre and Keegan-Michael Key as two of Scar's hyena minions. The trailer only heard James Earl Jones' voice in voiceover, so we will just have to wait for more footage to see how the talking animals will actually look in the movie.
Fans are also looking forward to getting more details about the new movie's soundtrack. Part of why the original Lion King became such a beloved classic was its infectious soundtrack, and the new movie will include multiple reworkings of the original's iconic songs. It makes sense to go all-out with the music when you have musical superstars like Donald Glover and Beyoncé starring, so the movie is also likely to feature at least one totally new song for Beyoncé to sing, although we still do not know what it might be.
The Lion King will stampede into theaters on July 19, 2019.