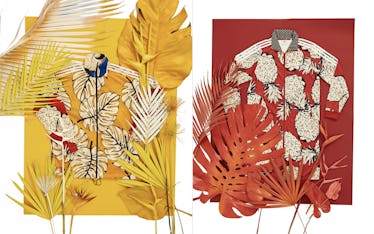 This New Adidas Collaboration Will Give You A Reason To Make It To Your Winter Workouts
Adidas
Staying motivated to workout and stay active during colder months is hard. Who wouldn't rather stay in a warm and cozy bed for an extra hour than walk through snow to hit the gym? Thanks to the new FARM x Adidas collection, which just launched this week, you'll have a bit more of an incentive to make it to that 7 a.m. bar class or go for that crack-of-dawn run. The uber bright collection features a ton of rad silhouettes like long-sleeve body suits, track jackets, running tights, crop tops, and more, all of which come in bright, tropical-inspired prints. The pieces are so cool that you'll jump at any excuse to wear them—yes, even if it means braving those pre-sun mornings that are so cold even Jack Frost would want to stay inside.
The collection marks the ninth collaboration between Adidas and Brazilian fashion and lifestyle brand FARM Rio. Known for their exclusive print engineering, Farm Rio creates over 400 prints each season. This collection, which was inspired by Rio De Janeiro, features "a creative interpretation of iconic elements found in Brazilian nature with bold graphic foliage prints including monstera leaves, and signature cashew and pineapple fruits," according to a press release. Take one look at the offerings and you will indeed feel momentarily transported to the beaches of Ipanema and Copacabana. As the saying goes, you should think warm thoughts when you're cold, so this collection is pretty ideal for winter workouts, no?
Shop some of its standout pieces below.
Cashew Outside
Did you guys know that this print is of cashews pre-harvesting?! When I discovered that each nut grows as part of a "cashew apple" my world was rocked. Anyways, they make one heck of a textile, don't you think? (This bodysuit would be ideal to run in if paired with some leggings on colder days.
Wild Thing
Where was this backpack when festival season was happening? The combination of playful prints and colors is cool on its own, but when paired with the snakeskin textiles it's even more unique.
Juicy Fruit
Cute for the gym, but maybe even cuter when paired with black trousers and stiletto pointy-toed boots?
Fronds Forever
You cannot go wrong with the combination of millennial pink and any sort of plant. (My dream interior decor theme, TBH.) Case in point: this absolutely perfect cropped bra top.
Leg Up
Everyone else at the gym in their somber black leggings will be jealous.
Suit Up
Because we only wish we could wear swimsuits all year round. (Southern Cali people, you are lucky.) This bodysuit is the next best thing.
Human Nature
For when a plain black Jansport simply won't do, there's this frond-leopard combo option. It even has a special compartment for your laptop.
Pineapple Express
If the blue and green frond leggings are a bit too bright for you, go for these slightly more subtle pineapple ones instead. Pair them with any black workout top and you've got an ace gym look that still boasts some tropical charm.