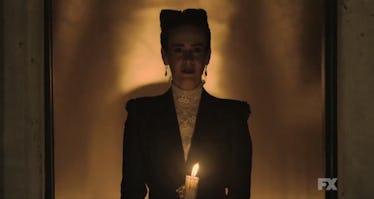 A New 'American Horror Story: Apocalypse' Trailer Is Here To Give You Endless Nightmares
American Horror Story is well known for bringing a whole lot of sex, gore, and camp to the small screen. And if the new American Horror Story: Apocalypse trailer tells fans anything, it's that they can expect much more of the same... with an extra dash of awesomeness thrown in.
In the trailer, the audience gets glimpses of what appears to be an apocalyptic nightmare. Chaos consumes entire cities. People are fearing for their lives.
Thanks to the new trailer, fans get to see some of their faves, like Sarah Paulson, who's been an AHS staple since the very beginning. Billy Eichner and Leslie Grossman feature prominently in the trailer, as do Kathy Bates and Evan Peters.
While the team behind AHS is notoriously vague and secretive before a new season starts, one can glean from the trailer that this season is going to be unconventional, even for AHS. Heck, even the cast list lets you know that this season is going to start with a bang. So many actors are reprising roles from previous seasons, and some AHS regulars like Paulson are even playing multiple characters.
In any case, this season looks like it might explore different timelines all at once. It's the apocalypse, after all. Anything can happen. One thing's for sure, though: There is a whole lot going on that's nearly impossible to discern from a minute-long trailer.
Check out the new American Horror Story: Apocalypse trailer:
As usual, the show boasts an impressive ensemble cast. In addition to Peters and Paulson, AHS regulars Frances Conroy, Adina Porter, Kathy Bates, and Emma Roberts are all slated to return. Not to mention, cast members from previous seasons are also on the roster for Apocalypse. Connie Britton, Taissa Farmiga, and Dylan McDermott from Murder House will be turning up this season, as well as Lily Rabe, Gabourey Sidibey, and Cheyenne Jackson.
And, of course, there are a slew of newcomers to the show. Joan Collins, for example, of Dynasty fame, will be a part of the new season. There's also Jeffrey Bowyer-Chapman, Cody Fern, and Lesley Fera. Oh, and by the way, the legendary Stevie Nicks is also expected to appear on Apocalypse.
But there's one actor that every AHS fan is just dying to see again: Jessica Lange. Lange was the center of AHS for so many seasons and many fans feel the show hasn't been the same since she left. But never fear, Lange is expected to make an appearance in at least one Apocalypse episode.
All in all, American Horror Story: Apocalypse is shaping up to be an incredible season. There's no doubt that fans will be taken for a wild ride. That's what always happens with AHS — you get totally sucked in and then they turn the tables on you when you least expect it. I personally can't wait to see what goes down this year. Bring it on, Ryan Murphy!
Oh, and please, please, please find a way to bring Jessica Lange back full time.