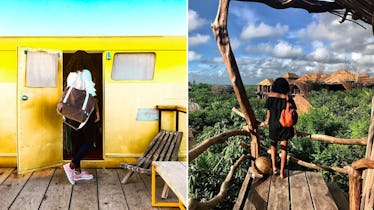 The Most Useful Packing Secrets From A Travel Blogger Who Lives Out Of A Suitcase
As a travel blogger, I've had plenty of packing practice. I've come a long way since the days when I basically threw my entire closet into my suitcase. I still have a few tricks to learn, but I've had plenty of opportunities to improve in the packing department. These days, I have more trouble unpacking after a trip rather than packing beforehand. However, there are some useful packing secrets from a travel blogger who lives out of her suitcase, that you really should know. These have truly saved me back in the day.
In the beginning of my travel days, I had no idea where to begin. I seem to be a master procrastinator in all areas of my life, so I did just that when it came to packing. I'd fail to make a packing list, so I'd inevitably leave important items behind. Alternatively, I'd end up bringing things that ultimately just took up space in my bag. Somehow, I always ended up overpacking and underpacking at the same time. It was difficult to get things just right.
Failure can be your greatest teacher. I now know exactly what things to bring without a second thought. However, I know that it can be tempting for less experienced travelers to pack everything they own. Packing properly is a bit of an art, and doing it wrong may effect your travels more than you realize. If you've got an upcoming trip and you are staring at your empty suitcase in complete and utter confusion, then here are a few packing secrets I've learned along the way.