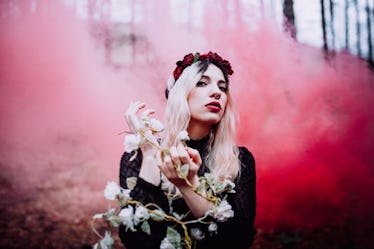 The Most Popular Halloween Costumes For 2018 Are Here & It's Time To Go Shopping
Your Pinterest board may already be overflowing with costume ideas. If pinning comes second-nature to you, you're probably brimming with creativity throughout Halloween season. But if you need some additional inspiration, the most popular Halloween costumes for 2018 have been revealed, all thanks to new data from global fashion search platform, Lyst, and Pinterest, as well.
Every year, social media is swarming with glittery, punny, and unique costumes you wish you thought of first. Thanks to this new list of top costumes for the season, you can play around with all of your ideas and see if they align with what's hot for the spookiest day of the year. Obviously, your 2018 costume has to outdo last year's, so there's no harm in looking to see what other people have been scoping out.
When it comes to trends, you have to consider the movies, music, random hashtags, and dance challenges that went viral throughout the year. They heavily influence the characters and concepts people decide to portray on All Hallows' Eve. The goal is to have people look at you and immediately be able to identify what you're dressed up as. (It sort of sucks having to spend the majority of Halloween explaining what you are, am I right?) On the night where you can be whoever you want, expect to run into these trends, according to what's hot on Pinterest right now.