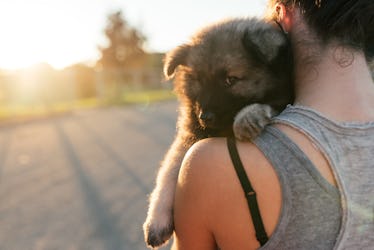 You'll Swoon So Hard When You See The Most Followed Pet On Instagram Of 2017
If your Instagram feed is anything like mine, it's probably filled with other people's pets, gloriously delicious food porn, and the beautiful beach sceneries that we only actually visit in our dreams. But in reality, my feed mostly consists of other people's pets, because pet FOMO is seriously just way too real. So if you do feel that a large chunk of your Instagram time is dedicated to admiring cute animal pics, you should probably take a peek at the most followed pet on Instagram of 2017 (if you aren't already one of his 7.2 million followers).
If you aren't one of the millions who admires his aesthetic AF Instagram feed daily, please meet @JiffPom. With only .8 million fewer followers than Donald Trump (go Jiff, go!) this good boy is the number one followed pet on Instagram this year, according to Instagram statistics acquired by Elite Daily. But honestly, are you even surprised? This beyond adorable Pomeranian doggo (who might as well just be a real-life teddy bear) is admired by both dog fans, and even non-dog-believers alike. Looking at Jiff's feed, he's got some radical moves riding skateboards, some gnarly gymnastics skills, and, hot take: He might be able to wear a dog hoodie almost as well as Broad City's Ilana Glazer.
And if his fashion sense didn't quite win you over, Jiff also has a stamp of approval from famous singer, Keegan Allen, as well as teen heartthrob Hayden Summmerall. There's no denying that Jiff is a very good boy, and deserves his spot as the most-followed puppy (and/or teddy bear) on Instagram this year.
If Jiff just isn't quite fulfilling that pet FOMO of yours, the second most followed animal on Instagram might just be the vice you're looking for... especially if you're a crazy cat lady who's a sucker for some beautiful blue eyes.
Meet Nala, a siamese and tabby mix, who has officially made it to number two on the list of most followed pets with 3.5 million followers. Her soulful eyes will lure you into her mysterious feline inner-being, and will continue to slay you all day, every day. Nala's fabulous degree of sass will definitely make you realize that your inner cat truly does exist, and her elite status as a major Instagram-influencer will forever make you wish that you were a cute cat for a living, too. Make sure you check out every gosh-darn adorable picture of her in a box, gazing dramatically into the distance, or even just taking a classic cat nap.
If you just aren't feelin' it with little Jiff or Queen Nala, the ever-famous Doug the Pug comes in third on the list of top-followed pets this year, with three million followers. Whether he's busy starring in an actual Fall Out Boy music video, eating pizza, or reenacting Spider Man, Doug seems to have done more interesting things on a daily basis than I have in my entire life. Doug has tiny, adorable costumes for pretty much any situation and pop-culture reference, and he's undoubtedly the lazy and majestic tiny pup we all aspire to be. But seriously, we really just can't enough of his incredible range of wildly cute facial expressions.
So if you're a major sucker for anything cute-as-heck, make sure to check out Jiff, Nala, Doug, or any of the other top 10 most popular pet Instagram accounts of 2017. If you're curious, the list below Doug is as followed: Shibainu Maru, Grumpy Cat, Marnie the Dog, Tuna, JuniperFoxx, Lil Bub, and Loki. Whether you're getting an adorable little pick-me-up on your lunch break, or if you're just trying to distract yourself while surviving a daunting commute on the subway, looking at cute Instagram accounts is indisputably good for the soul. We 10/10 would recommend it.
Check out the entire Gen Why series and other videos on Facebook and the Bustle app across Apple TV, Roku, and Amazon Fire TV.