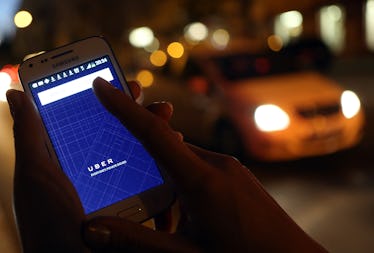 If You Avoid Ubering During These Hours On NYE, Your Wallet Will Thank You
Adam Berry/Getty Images News/Getty Images
We've all been there: You're out having a blast with your friends — maybe at a concert or celebrating a holiday — and you're getting ready to head out. You open up your Uber app, and right as you're about to book your ride home, you see that the price is triple what it would normally be... thanks to the amount of people also trying to get home at that time. Paying an outrageous price to get home can put a serious damper on your night, but unfortunately, it's virtually unavoidable in certain cases. Thankfully, the company has predicted the most expensive Uber times on New Year's Eve, so that you can plan ahead and avoid paying a surge price.
An Uber spokesperson tells Elite Daily that the highest fares on New Year's Eve will be between 12 a.m. and 3 a.m. local time. I know, it's not exactly what you want to hear on a night that truly begins at midnight. However, given the amount of people who will be out and about on NYE, this totally makes sense. It's a bummer, but there are ways to get around those scary prices.
If you're trying to get to a party, a concert, or a friend's house, try to travel there well ahead of midnight. Rally the troops sooner than later and head on over to your destination earlier in the evening to save a little green. When figuring out when to head home, you might want to consider wrapping things up early if Uber is your preferred method of transportation. Of course, you can always go the other route and keep the party going into the wee hours of the morning, when rates have returned to normal.
If taking an Uber is your only option, as it may be in cities with less public transportation, there are still ways that'll help you avoid spending your entire bar tab on getting home safely.
Uber's multi-destination option allows you to make multiple stops on the way to your final stop. If you want to save some money, consider picking friends up en route to the celebration and dropping friends off on your way home. Whether you use multi-destination or everyone meets at one location, split the fare. The total cost might be expensive, but if you split it, it won't be quite as painful.
If you're rolling solo to the party, or you've only got one friend in town, you can take uberPOOL instead of uberX. The uberPOOL feature allows you to carpool with other riders who are headed in your direction at a cheaper cost than uberX. It might take you a little longer to get where you're going, but your arrival time will update in-app, and the money you save is well worth it.
Keep in mind that holidays mean crowds, and crowds can mean more potential for dangerous situations. Uber tells Elite Daily a number of tips for passengers that'll ensure everyone travels safely this New Year's Eve. The most important thing to do is verify that the vehicle you are getting into matches the one described in the app; the make, model, and license plate number on the car should be double checked before you get inside. Same goes for the identity of the driver — make sure the name and photo match. If your city offers Beacon (the Uber windshield light that glows the color of your choosing), take the extra step and use it.
Check out the entire Gen Why series and other videos on Facebook and the Bustle app across Apple TV, Roku, and Amazon Fire TV.