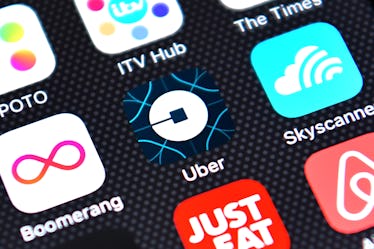 You Can Get Cheaper Uber Rides On New Year's Eve With These Hacks
Carl Court/Getty Images News/Getty Images
Now that Christmas is officially over (crying emoji), everyone has New Year's Eve on the brain. Whether your plans include a big concert, a house party, or a small get together with friends, chances are at least one person in your group will be taking an Uber to get to their destination. And while Uber may be more reliable than public transportation on a night like NYE, there's that old hassle to worry about: the cost. The price of Ubers are bound to go up on Dec. 31 and early Jan. 1 because of the holiday. Thankfully, we found out how to get cheap Ubers on New Year's Eve so you can spend that extra cash on champagne and goofy "2018" glasses. Hey, it only happens once a year, right?
Multi-destination
An Uber spokeswoman tells Elite Daily that if you and a bunch of friends are going to the same place, consider coordinating your route using the multi-destination option. Start your night a little early (you don't have to tell me twice) by picking up friends along the way to your destination. Or, you can drop friends off on your way home. By using the multi-destination feature and sharing one Uber, everyone's wallets will feel a little heavier and thus, happier.
Split Fare
This (hopefully) goes without saying if you're using the multi-destination option, but even if you're not, split the fare. Whether you pick up and drop off on the way or everyone meets in one place, splitting the fare will help cut down on costs. Plus, you can do it right in the app; no cash or Venmo necessary.
uberPOOL
Ah yes, the beautiful service that is uberPOOL. If you're unfamiliar, uberPOOL allows you to carpool with other riders who are headed in the same direction as you. It's kind of like picking up and dropping off friends, but instead, you have the chance to make some new friends! The best part is, it costs less than regular UberX. The only downside is that because you're picking up other passengers who aren't going to your exact location, it may take you a bit longer than it normally would to get to wherever you're going. But you can always see your arrival time update in real time in the app. The uberPOOL is available in 36 different cities in the world, so check to see if you'll be able to use the convenient service this New Year's Eve.
Avoid Peak Surge Times
As you probably guessed, prices are definitely going to surge on New Year's Eve. But it won't last all night, and there are ways to avoid it. If you can, try to travel before 12 a.m. or after 3 a.m. local time. Uber anticipates that fares will be the highest during this three-hour period, so keep that in mind when you're thinking about when you might want to hit up a different party or wrap things up.
In addition to cost concerns, safety is on a lot of people's minds this year, as well — and an Uber spokesperson tells Elite Daily a few key details to look out for. The amount of drivers and foot traffic in big cities presents more opportunities for scary situations, so take the following precautions when traveling with Uber:
Car details
Make sure that the make, model, and license plate of the car match what appears in your app before getting in. There will be lots of Ubers on the road, so avoid confusion or potential danger by doing a quick double check.
Driver details
Just like the car information, confirm your driver's name and that they look like the photo that appears in the app.
Beacon
Uber introduced Beacon a little over a year ago. Essentially, drivers can place a light on their windshield that glows with a color selected by their passenger, to allow for a smoother pickup experience. If your city has Beacon, this is another great way to make sure that you're getting into the right vehicle.
Wherever you're headed to to ring in the new year, keep your coins and yourself safe with these tips.
Check out the entire Gen Why series and other videos on Facebook and the Bustle app across Apple TV, Roku, and Amazon Fire TV.