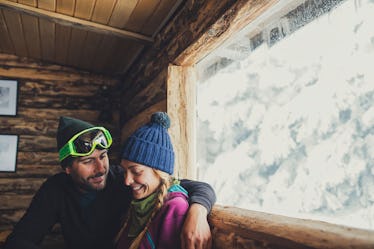 The Dreamiest Ski Chalets In The World Will Make You Feel Like You're In A Rom-Com
It's officially ski season, so that means it's time to pack up your gear and hit the slopes. If you've never planned a ski getaway before, then you're in for a real treat. There's no better time than the present to feed your wanderlust. By day, you'll be skiing, snowboarding, snowshoeing, tubing, and more. By night, you'll want a cozy place to retreat back to. The most beautiful ski chalets in top winter destinations across the globe, according to TripAdvisor Rentals, will make that part easy for you. Upon arrival, you'll feel like you're in your very own rom-com — so grab bae ASAP.
That's right: TripAdvisor has put together an impressive list of the most stunning chalets in the entire world. When it comes to accommodation, renting a vacation home is the way to go. You'll have absolute privacy and plenty of space to do your own thing. Trust me, you'll be longing to cozy up on the couch, cook a delicious meal, or slip into the hot tub after spending hours in the snow. Winter sports are exhilarating, but they can also be really tiring.
Instead of booking a hotel room for your getaway this season, consider booking a dreamy vacation rental where you'll feel right at home. Here are some of TripAdvisor's top picks.