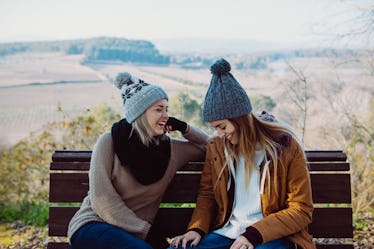 The Most Beautiful Fall Campuses In The U.S. Are Worth A Road Trip With Your Roomie
It's fall, ya'll — which means school is officially back in session. It's time to hit the books and sip your favorite Pumpkin Spice Latte in class. You've likely dreamed of attending this university your whole life, so why not soak up all that it has to offer? When you choose a university, there are so many things to consider. You factor in classes, major, sports, extracurricular, and even aesthetics. A beautiful setting definitely helps when you'll be spending four years in the same place. Classes can be a drag at times, but some of the most beautiful fall campuses in the U.S. feel like a slice of heaven.
They say that college will be the best four years of your life. Your spirit is carefree, and your eyes are filled with wonder. You're hopeful about your life, career, friends, and future. You practically live next door to your best friends, so it's easy to see why college can be so fun. Of course, classes can be overwhelming at times, but the good far outweighs the bad.
Fall is such an exciting time for college students, because you're on the brink of new beginnings. You're finally reunited with your friends, and it's officially football season. I can't think of a better way to celebrate than going on a fall road trip. Hit up some of these beautiful fall campuses to see what life is like at a different university, because college is a blast no matter where you go.