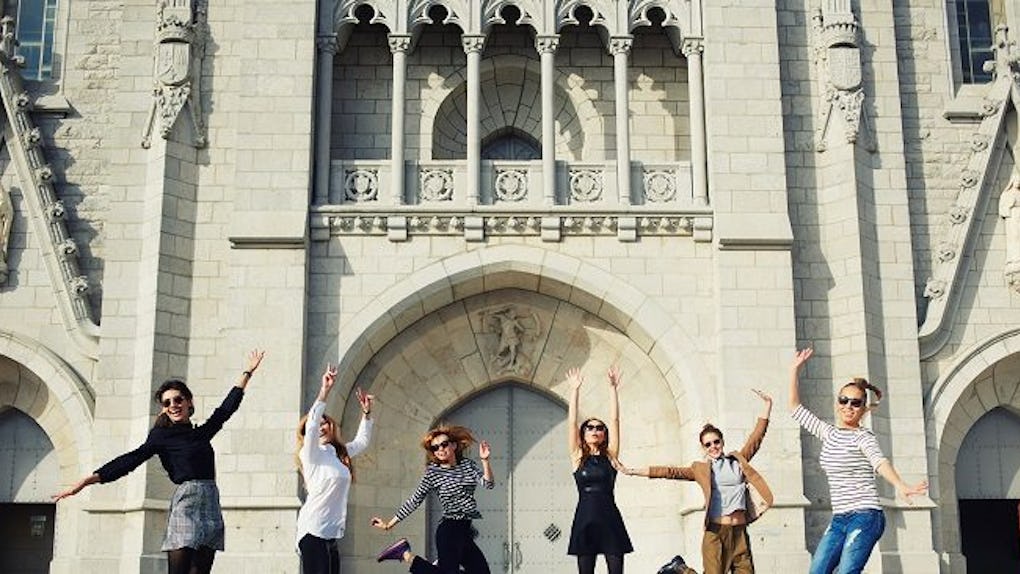 GaudiLab/Shutterstock
10 Most Beautiful Sorority Houses Across The Country That Will Make Your Jaw Drop
Being in a sorority certainly has its perks. Aside from making lifelong sisters and friendships, some of these ladies live in more than lavish establishments. These dolled-up sorority houses will seriously make you swoon. Who knew college living could be that fancy? If you haven't already stumbled across a few, the most beautiful sorority houses across the country are so gorgeous, you have got to see them in real life to fully comprehend how dope they are.
These insane college pads will definitely make you wish you pledged back in college. Who would even want to visit back home after staying in one of these extravagant homes? It's safe to say the college experience of these sorority ladies is a lot more roomier than those of us who shared a bunk bed in a typical college dorm room. Regardless, these homes are great to look at, and it's hard to imagine what it would have actually been like to stay there. Is it too late to go back to college and rush? OK, in all seriousness though, these places are simply amazing, and these ladies are lucky to be able to actually call them their home. Prepare to be amazed when you see these luxurious establishments.
1. Chi Omega At The University of Michigan
Look who is eΧplΩring the Eta Chapter of Chi Omega at the University of Michigan! Have fun Dellanie! #tamuc20pic.twitter.com/oTglTpLNhz — Chi Omega TAMUC (@ChiOSigmaZeta) June 2, 2016
I definitely had some Fresh Prince of Bel Air vibes looking at this one. But seriously, the pillars scream royalty. This place probably looks amazing all decked out with Christmas lights, too.
2. Kappa Kappa Gamma At The University of Arkansas
Ummmm can we just talk about how insane the University of Arkansas' kappa kappa gamma sorority house is?!! pic.twitter.com/VumCLTb7pT — Stassi (@BlondeBeachin) December 18, 2014
OK, you have got to be kidding me, right?! Everything down to the size and decor is almost unreal. This literally looks like some big baller's place. It's super classy.
3. Kappa Delta At The University Of Arkansas
Check out the ceiling and the symmetry of the Zeta Gamma chapter's living room! Happy #ScenicSunday from the University of Arkansas! pic.twitter.com/WeCsGSb9EU — Kappa Delta Sorority (@KappaDeltaHQ) July 30, 2017
This room looks like you should sit, drink tea all day, and eat delicious finger foods. Super fancy doesn't even begin to describe it. I'd be walking on eggshells just to make sure I didn't knock anything over.
4. Tri Delta At Mississippi State University
In less than two years, the dream of a new facility for @MSUTriDelta has become a beautiful reality: https://t.co/VdxfcuTC2upic.twitter.com/ul9yFBXtrI — Delta Delta Delta (@TriDelta) August 9, 2017
Who decorates these places? This living room looks like something straight out of those fancy magazines in the dentist waiting room. No need to say, "open up," because this place already has us in awe.
5. Kappa Kappa Gamma At The University Of Wisconsin
There's nothing quite like the Kastle in the winter time. pic.twitter.com/3CBjHFjm — Kappa Kappa Gamma (@EtaKKG) December 18, 2012
Can anyone say major Harry Potter feels? This place is literally a castle in all of those fairytales we read growing up as kids. The scenery is absolutely amazing.
6. Zeta Tau Alpha At University Of Texas At Austin
Thank you ZTA-University of Texas for the beautiful Christmas card! We wish you guys a happy upcoming new year! pic.twitter.com/HWiVTkHAH9 — Austin ZTA Alumnae (@AustinZTA) December 31, 2015
This house definitely deserves to be on Christmas cards worldwide. Literally, why would you event want to go home after living somewhere like here? I'd sing Christmas carols anytime of the year if I lived in this *palace*.
7. Phi Mu At The University Of Alabama
It's Day 2 of workshop and we're feeling on top of the world! pic.twitter.com/GBWBKOCdxp — Phi Mu (@PhiMuatUA) July 31, 2016
There are three tiers to this place, and it looks like some important government building. Whoever designed this house was definitely thinking big. For real though, where can I sign up?
8. Chi Omega At The University Of Missouri
It's easy to see why @MizzouChiOmega is one of the South's Most Beautiful Sorority Houses: http://t.co/su5L16ILQypic.twitter.com/XtWntKPmbS — Southern Living (@Southern_Living) August 17, 2015
Those railings are just asking to be slid down. Talk about being able to make a solid entrance. Extravagant can hardly even describe this setup.
9. Zeta Tau Alpha At The University Tennessee
Happy International Woman's Day to the best group of women there possibly is!!! ZLAM pic.twitter.com/ZejNtYCpGI — UTK Zeta Tau Alpha (@UTKZTA) March 8, 2017
What is it with these gigantic pillars to literally remind us how amazingly huge these homes are? I can't even imagine how many rooms are in this place. Enough for one more?
10. Delta Gamma At The University Of Colorado At Boulder
Happy summer! Here's to another amazing year full of laughs and adventure at 1128 Penn! … https://t.co/PGr56YKIRnpic.twitter.com/sQJNwNrmDs — Colorado Delta Gamma (@DGPhi) May 6, 2016
This place looks like a huge enchanted cabin. These sisters are definitely cozy and comfortable, just from looking at the exterior of the house. Again, where can we pledge? Yes, these sorority houses are beautiful and stunning, but a picture can hardly grasp what sort of magical memories these ladies provided for each other. Homes can be built, but the sisterhood is what lasts.