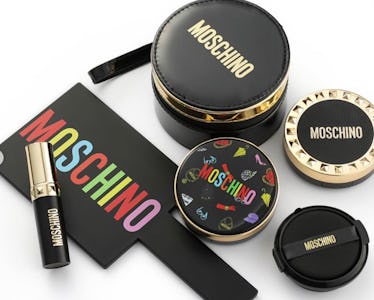 Moschino & TONYMOLY Collaborated On A Beauty Line & It's Def Every K-Beauty Lover's Dream
Do you like your beauty products to come in pastel hued packaging made to look like little rabbits? Are you among the fashion obsessed? Does your morning start off with an intense K-beauty skincare routine? If you've answered yes to any of the above, then the Moschino x TONYMOLY collaboration is going to make you very, very excited. Yep, that's right, everyone's favorite quirky-cool high fashion brand has teamed up with the cutest Korean beauty brand around on a collection of makeup and skincare products and you'd better believe it's the chicest lineup around.
Moschino previously won hearts this year for its collaboration with H&M, which allowed customers who might not have otherwise been able to afford the brand to shop it. The collection was bright, imaginative, slightly '90s, and full of personality, and it started selling out at lightning speed. Taking the collection's popularity into account, it makes sense that other brands would be eager to collaborate with Moschino—the fact that TONYMOLY was the chosen one is incredibly exciting.
Known for their products that meld effectiveness with cuteness, TONYMOLY is a respected K-beauty brand that sells makeup, skincare products, and body products. Their packaging is colorful, sleek, and often boasts an animal or two, and brings some kawaii fun to their quality products.
Knowing TONYMOLY's propensity for aesthetic perfection and Moschino's brazen approach to style, I expected their collaboration to be visual perfection, and it does not disappoint.
As revealed in a post by all-knowing beauty news Instagram account @trendmood1, the collection includes an array of makeup products and a few skin products, all of which boast sleek and chic packaging. Black, white, gold and rainbow compose the collaboration's color palette and together make for a sophisticated yet playful eyeful.
In regard to makeup, the lineup includes three shades of Chic Stay Tint ($25 each); three shades of Lip Market Matte Bar ($20 each); 3. two Soft Glam Eye Palettes made to look like tiny bags ($79 each); two Super Beam Eye Palettes made to look like phone cases ($60 each); a Black Gel BT Supreme Matte Liner ($15); and two shades of SPF50+ Chic Skin Essence Pacts ($49). It also includes Floria Nutra Energy 100 Hours Face Cream ($39) and SPF50+ Gold Edition Chic Skin Cushion + Refill.
The eyeshadow palettes each boast eight pans of pigment, which appear to be a mix of metallic and matte. Whether you're looking for a light champagne, an orangey bronze, a dusty purple, or a deep brown, one of the palettes will have you covered. The tints stick to a warm color scheme and come in a fiery red, a deep orange, and a deep rose. (Scroll within the trendmood1 post for swatches.)
Seeing as the holidays are the perfect time for dramatic beauty looks filled with shimmer and rich, bold color, this collection couldn't have come at a better time. You'll be able to shop the full collection at TONYMOLY's U.S. web store starting in December, just in time for the holidays.