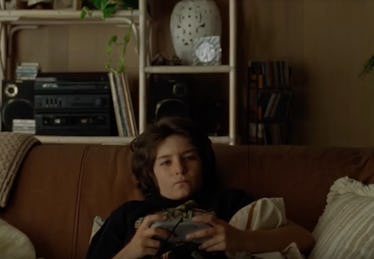 Jonah Hill Directed A Movie & The Trailer Will Make You Channel Your Inner Teen
A24
The 1990s aren't going anywhere on film any time soon, if Jonah Hill's directorial debut is concerned. Skateboarding, Super Nintendo, CD racks, camcorders, and tweenaged angst are all on display in the just-released Mid90s trailer. The movie was written and directed by the two-time Academy Award nominated Hill and stars young Sunny Suljik as Stevie, a 13-year-old balancing a difficult homelife and new group of skate pals during summer in mid-90s Los Angeles.
The clip spotlights Stevie goofing off with his buddies, skating around the hazy Cali pavement, dabbling in what's probably not the most responsible behavior, and getting ragged on by his older brother, who's played by another Oscar nod, Manchester by the Sea and Ladybird's Lucas Hedges. Fantastic Beasts' Katherine Waterston appears in the film as Stevie's mother Dabney.It's a coming-of-age tale with a throwback twist that Jonah Hill might know a little something about — the actor-turned-director grew up in SoCal during the richly nostalgic decade.
Hill spoke to the LA Times about the ambitious project back in 2016, explaining that the film is close to his heart and has been many years in the making:
I've been writing this movie for three years. It's about being 13. To me that was the most confusing and hard age. It takes place in the skateboarding community in the mid-90s in L.A., but it's really about finding a family outside your home. I wanted to show respect to skateboarding as a culture that's given me so much — so much creativity, so many friends, and kind of an ethos. Falling, picking yourself back up — those themes are applicable to all different parts of life.
Hill additionally revealed to NowToronto that the story was inspired by his own teenage past to some degree.
"I grew up skating in L.A. in the mid-90s, it's how I made a lot of my friends and ­surrogate family," he noted, explaining that writing a play with filmmaker Spike Jonze (Where the Wild Things Are, Adaptation.) encouraged him to work on the script.
Jonah has clearly proven himself as a versatile actor through the years. The 34-year-old kicked off his career breaking out in raunchy comedies of the Apatow persuasion like Superbad and Knocked-Up. He earned his first Oscar nomination for 2010's Moneyball and struck comedy/drama gold again with a memorable turn in Wolf of Wall Street.
In addition to getting into the indie directing game, Hill is set to star alongside his former Superbad co-star Emma Stone in the upcoming 10-episode Netflix series, Maniac. Jonah plays a man in an institution who lives out a fantasy life in his dreams in the upcoming show, which is based on a Norweigan program of the same name. Jonah is currently getting raves for his performance in Gus Van Sant's Don't Worry, He Won't Get Far on Foot, which is in theaters now. He'll also appear in Harmony Korine's The Beach Bum and lend his voice to The Lego Movie 2: The Second Part.
"He is a brilliant director," Katherine Waterston gushed regarding Jonah, discussing Mid90s with Metro. "The cast was incredible. Sunny Suljic plays my son, and he is one of the most extraordinary little creatures I have ever met. He is incredibly talented, very young and an amazing skateboarder and just a cool kid."
Mid90s is expected to hit theaters October 19, 2018.