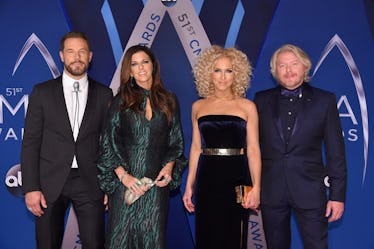 The Meaning Of Taylor Swift's "Better Man" Song For Little Big Town Will Make You Sob
Michael Loccisano/Getty Images Entertainment/Getty Images
We all know by now that Taylor Swift is one of the many queens of music. She's a successful artist, yes, but she's also a phenomenal songwriter, writing music that she not only sings herself, but for other artists as well. Case in point: Little Big Town's song "Better Man" was actually written by our girl T-Swift. Seriously, is there anything she can't do? (The answer to that is obviously no.) And if you haven't listened to the song, I highly encourage you to drop whatever you're doing and listen to it now, because it will bring you on an emotional rollercoaster. The lyrics Swift has penned for this song are pretty revealing, and I think the meaning of Taylor Swift's "Better Man" proves that we've reached an entirely new level of breakup songs. The lyrics are heartbreaking and gut-wrenching, but I'd be lying if I didn't say it was so relatable for anyone who's been through a difficult breakup.
Grab some tissues, because here's a taste of some of the lyrics:
I know I'm probably better off on my own
Than loving a man who didn't know what he had when he had it
And I see the permanent damage you did to me
Never again, I just wish I could forget when it was magic.
I wish it wasn't 4 AM standing in the mirror
Saying to myself, you know you had to do it
I know the bravest thing I ever did was run
Sometimes in the middle of the night I can feel you again
But I just miss you and I just wish you were a better man
And I know why we had to say goodbye like the back of my hand
And I just miss you and I just wish you were a better man
Oof. I warned you that it would make you feel things.
While on the surface it clearly seems like this song is about someone breaking up with a man who was no good (despite missing the hell out of him, and let's admit that we've all been there), the world wanted to know one thing: if this was a personal account from Taylor, who is this song about?
Many were quick to speculate that it had to be based off Swift's relationships with either Tom Hiddleston or Calvin Harris, especially because certain parts of the song coincidentally matched up with key points of each relationship.
Indeed, Kris. Indeed.
While Swift has never officially confirmed who "Better Man" was meant to be about, Big Little Town's Karen Fairchild explained that perhaps the song is meant to be about anyone in your life that has not done right by you. In a Facebook Live press conference for the song, she said,
Everybody has a better man. It might have been a lover, or a parent that disappointed you. I think the beauty of that storytelling is that we can all relate to being disappointed in someone and still loving them, but saying 'Enough is enough' ... This would have been amazing if you would have gotten your act together. That's kind of a fun song to sing.
OK, so it may be fun to sing, but what about if you're trying to investigate who this song is about? NOT FUN. NOT FUN AT ALL.
Regardless of whether or not Swift will ever open up to reveal who this sad and somber song is truly about, we know one thing is for certain: Taylor Swift has a knack for words.
'Memba that time it was revealed that it was Swift who secretly wrote the the song "This Is What You Came For," performed by Calvin Harris and Rihanna? And used the coolest pseudonym I've ever heard, Nils Sjoberg? And remember the time that it was a freaking Billboard hit?
Like I said, girl has got talent. But c'mon, we already knew that.
Taylor, no matter who you write about — or who you write for — you have your unwavering support. Keep making those achy-breaky-heart tunes, and I promise that we'll keep listening.