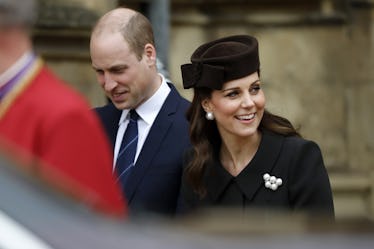 Kate Middleton Had Her Third Child On A Super Important Day & It's So, So Special
WPA Pool/Getty Images Entertainment/Getty Images
The royal baby is officially here! Kate Middleton and Prince William's third baby arrived on Monday, April 23, 2018, and honestly, the timing couldn't have been better. As it turns out, April 23 also happens to be an important religious holiday called St. George's Day. In case you're not familiar with it, the meaning of St. George's Day actually makes this little royal's birthday so much more special.
UPDATE: In a tweet published on Friday, April 27, Kensington Palace confirmed that Prince William and Kate Middleton named their third son Louis Arthur Charles, adding that the baby will be known as His Royal Highness Prince Louis of Cambridge.
EARLIER: While we don't know much about the new royal baby as of now, Kensington Palace tweeted out an update this morning to let us know that Middleton delivered a healthy baby boy at around 11 a.m. London time. And while we don't have a name yet for the newest royal addition to the family, we can always try to wrap our heads around the mouthful that is purported to be his official royal title. Royal historian Marlene Koenig told Town & Country that the official title of Prince William and Kate Middleton's third baby will be His Royal Highness Prince of the United Kingdom of Great Britain and Northern Ireland — and that's without his first name in there. Yeah, try saying that one five times fast.
What we do know for now is that today, April 23, happens to be a holiday called St. George's Day. But what even is that, and what does it have to do with the new royal baby?
People reports that April 23 is known as "the feast day of St. George," aka the patron saint of England. Interestingly enough, the outlet explains, St. George never actually lived in England during his lifetime, but during the Middle Ages, "he was officially named the protector of the royal family and the patron saint of the country."
Though People reports that St. George's Day isn't really celebrated much these days an actual holiday in the UK, the story of St. George himself honestly sounds so, so epic. According to The Independent, legend says that the patron saint of England had to slay a dragon — yes a dragon — to save the people of Silene, a city in Libya that was being terrorized by the beast. The outlet says the legend seems to have come from the Eastern Orthodox church, as well as stories passed down by warriors during the Crusades.
Obviously, this legend isn't meant to be taken literally. However, The Independent reports that St. George's story "has enormous symbolic weight as an image of heroism and gallantry," and remains an important detail of Christian culture around the world. And hey, we already know this new royal baby is inevitably destined for greatness, but who knows? Maybe his birthday holds more symbolism than we realize. Or maybe he'll just grow up thinking dragons are super cool, and he'll get really into Game of Thrones as a result — but like, who wouldn't?
Kate Middleton's pregnancy was announced back in September, just two months before Prince Harry and Meghan Markle's engagement announcement took place. Now everyone's wondering if the third royal will be in attendance at his uncle's and future aunt's wedding, but since Prince Harry and Markle's wedding will be taking place this year on May 19, odds are the little guy will be present, even if he has to be taken out to the royal cry room every few minutes.
William and Kate's third baby will have older brother George and older sister Charlotte to teach him the royal ropes, and will be the first royal baby to get to know Aunt Meghan early on.
Shortly after the birth was announced, Kensington Palace returned to Twitter to inform the public that all members of the royal family have been informed of the birth and are "delighted" to hear the news. Congrats to the mother and father of three, Kate Middleton and Prince William.