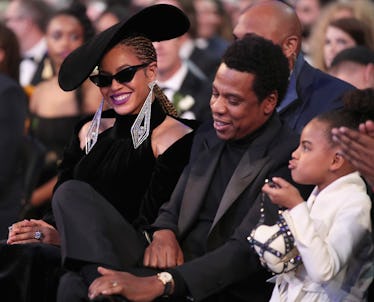 Beyoncé & JAY-Z's Surprise Album May Have A Deeper Meaning Than You Realized
Christopher Polk/Getty Images Entertainment/Getty Images
In case you haven't heard, Beyoncé and JAY-Z made 2018 by dropping a surprise debut collaborative album called Everything Is Love on Saturday, June 16. The album has nine songs, including "Apesh*t" (which also got a surprise video drop the same day), "Summer," "Heard About Us," and "Black Effect." The couple dropped the album as part of their On The Run II tour. You can hear all of the songs on Tidal. Fans from all over the world completely lost it when the album dropped, and the meaning of Everything Is Love for Beyoncé and JAY-Z caused other fans to lose it even more.
The Carters dropped their album with a video for "Apesh*t" that shows Bey and JAY at the Louvre Museum in Paris. The song is a serious jam and features Quavo, too. Some of the lyrics go,
Crowd better savor (crowd goin' heavy). I can't believe we made it (this is what we made, made). This is what we're thankful for (this is what we thank, thank). I can't believe we made it (this a different angle). Have you ever seen the crowd goin' apesh*t?
The corresponding video shows the couple in bright colors, holding hands and cuddling, surrounded by art. Can you say couple goals?
In other songs on the album, fans can hear that same message of love. On the song "Summer," JAY raps,
If I can stay in her head forever, that'd be fine by me. I don't have no concept of time even with a rose gold concept on me. I remember summer nights in the projects, bullet rounds interrupting my Chi. When the worst thing that could happen zipped up his jacket and ran back up the street. In Bel-Air only the nights get cold, I wrapped a yellow jacket around Bey. It's not lost on me, music has my kids sound asleep.
In the outro for the same song,
Love is universal. Love is going to express itself as a form of forgiveness and compassion for each other.
There's no better way to put it for what the entire album is about. For Bey and JAY, it's about love and family.
In the final song on the album, "Lovehappy," Bey and JAY sing together,
Happily in love, haters please forgive me. I let my wife write the will, I pray my children outlive me. I give my daughter my custom dresses, so she gon' be litty. Vintage pieces by the time she hit the city, yeah-ah.
Honestly, just imagining lil' Blue Ivy in some custom vintage right now and sobbing.
Fans weren't lost on the name of the album and it's meaning, and took to Twitter to speak their mind on it.
So, where can you hear Everything Is Love? For now, the album is exclusively on Tidal, where the service is offering a six-month free trial (yessss, thank you Tidal gods). If you don't want to sign up for the service, you can hear "Apesh*t" on Beyoncé's YouTube Vevo account. There's no word on if the album will be available on Spotify or Apple Music any time soon, but considering that Lemonade never went on Spotify, fans might be waiting a while. Elite Daily reached out to Beyoncé's team for more information on streaming options but did not hear back by the time of publication.
Whatever way you listen, just listen. After less than 24 hours of airplay, fans are already singing their praises for the joint album. Now, let's just hope Bey and JAY sing some of the new stuff during their upcoming shows on the On The Run II tour.