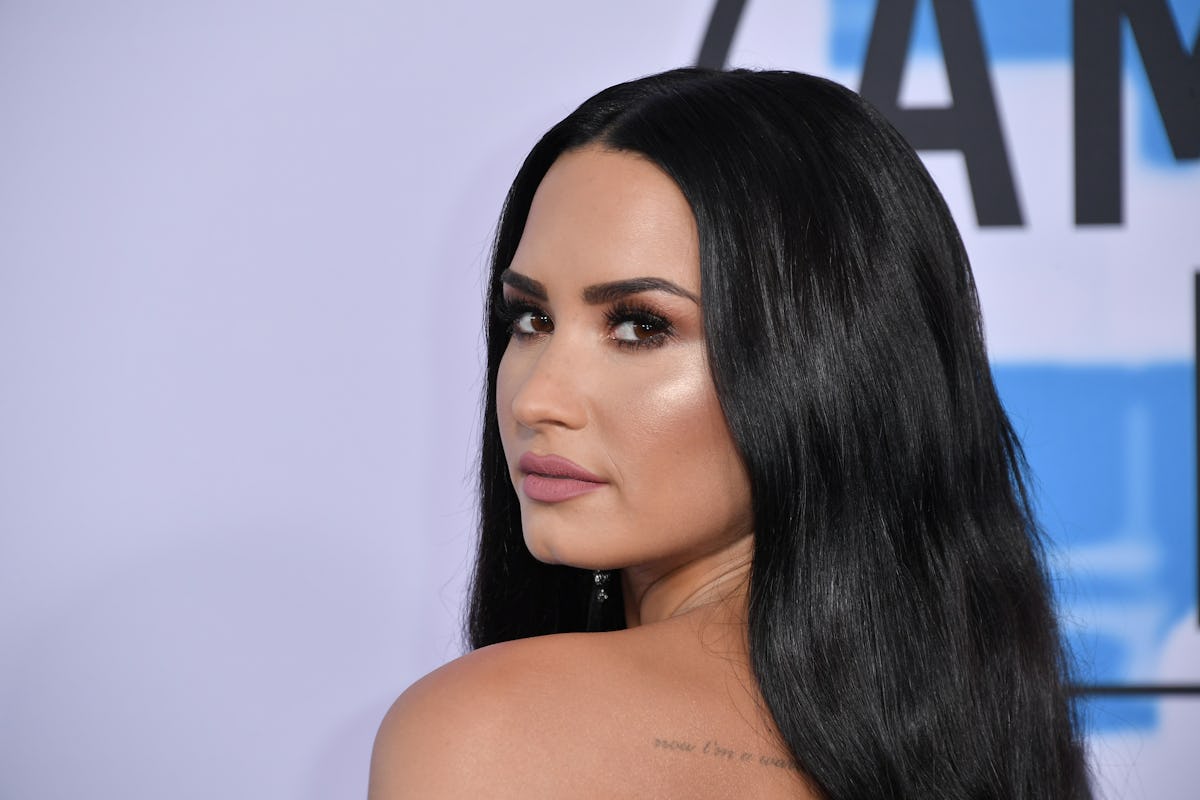 The Meaning Of Demi Lovato's "Tell Me You Love Me" Music Video Is So Heartbreaking
Neilson Barnard/Getty Images Entertainment/Getty Images
If you're like me, you've watched Demi Lovato's "Tell Me You Love Me" video at least 30 times by now, because OH MY GOD it is so good. Before the video even came out, Lovato made it evident that her new music would hit you where it hurts: right in your cold, cold heart. "Tell Me You Love Me" is raw and intense, with lyrics that are beyond relatable to anyone who's had their fair share of heartache. But what is the meaning of Demi Lovato's "Tell Me You Love Me" video? Is it about love and loss in general, or something much more personal?
For fans of the talented singer, Lovato notably turned heads when, on Nov. 22, she took to Twitter and posted a photo of herself in a wedding dress, having fans freak the eff out, while also talking about how incredible she looked in the white gown and veil (seriously, a damn vision). Fans almost immediately caught on, theorizing that the snapshot was a teaser for the video "Tell Me You Love Me", because the lyrics are clearly about romance, love, and maybe (definitely) some heartbreak.
Here are a few lines that will make you go, "same," if you've ever loved anyone:
Oh no, here we go again
Fighting over what I said
I'm sorry, yeah I'm sorry
Bad at love, no, I'm not good at this
But I can't say I'm innocent
Not hardly, but I'm sorry
And then the chorus:
Oh, tell me you love me
I need someone on days like this, I do
On days like this
Oh, tell me you love me
I need someone
On days like this, I do
On days like this
Oh, can you hear my heart say
Ooohhhh, ooh
No, you ain't nobody 'til you got somebody
You ain't nobody 'til you got somebody
So, yeah, you can see why some people were quick to put two and two together:
She then posted a picture of a "save the date" on Instagram, featuring her name alongside her presumable fiancé, Jesse, confirming that yes, this is a teaser for the "Tell Me You Love Me" video:
So, we have a bride and a wedding date, which sounds pretty optimistic. But the song itself seems... well, kind of sad.
So, when she took to Instagram and posted two additional teasers, just a day before we were all able to watch the video in full, we finally got to see that the happy bride might have just been complete smoke and mirrors, looking back on a time when she was happy and in love, though now she's alone.
The first shows photo slides of Demi in her wedding gown, shifting to photos of her in a blush dress, then finally, in black:
Then another, with ominous church bells ringing in the background, and a lonely Demi dressed yet again in black, followed by what seems like a vision of a distant memory of her wedding day:
And now that the video is here, a lot of people are trying to decode what it truly means.
The video shows Demi and her fiancé, Jesse, clearly in love but fighting constantly over seemingly anything and everything. Still, they continue through with the wedding, only for Jesse to leave a stunned Demi at the altar. Damn.
So, sure, the video shows a woman who was in love but is now just a shadow of the person she once was after her heart was broken when a man left her at the altar, but many think there's more to it than just that, especially because of how similar the story seems to Lovato's own relationship with her ex-boyfriend of six years, Wilmer Valderrama.
She explained the meaning of the song to her fans at a New York City album launch, and fans were convinced that it definitely alluded to Valderrama:
The first time I heard it, it really stuck with me because at the time I was going through a breakup. ... It's about the vulnerability of coming out of a very serious relationship and having a tough time with it. ... It also at the same time calls out a big misconception with the line, 'You ain't nobody 'til you got somebody,' which again comes from that vulnerability with mixed emotions.
And Lovato has been very forthcoming about her history with Valderrama, going on to reveal that she was unsure about her choice to break up with him in her documentary Simply Complicated:
I do have moments where it's late at night and I'm lonely and I wonder if I made the right decision, because love is a gamble. I don't know if I'll lose him for the rest of my life.
Do we know for sure that "Tell Me You Love Me" is loosely based off of Lovato's personal struggle with love, and perhaps the issues she faced in her own relationship? While we don't know the definite answer to that, we're pretty positive that this song — and the video — are beyond beautiful.