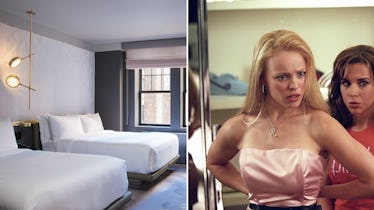 Grab Your BFF: This 'Mean Girls' Hotel Package Gives A New Meaning To "Fetch"
The Time New York / Paramount Pictures
Hold on to your candy cane-grams because I have some "grool" news that will hit you like a giant yellow school bus. In honor of Mean Girls day — "it's October 3rd" — falling on a Wednesday this year (make sure you're wearing pink!), and inspired by the new hit Broadway musical, The Time New York Hotel is debuting a new package for the ultimate Mean Girls experience. From seeing the Broadway show to sipping fun, exclusive cocktails, the Mean Girls package at The Time New York Hotel will give you the time of your life, even if "there's a 30 percent chance that it's already raining." (Can you tell that I'm having a ton of fun pulling out quotes from the movie?)
If you're a diehard Mean Girls fan like me, you probably grew up watching and rewatching The Plastics making over wide-eyed Cady Heron, and probably (secretly) wished you had a frenemy like Regina George to add a little spice to your high school experience. You probably considered dressing up as a mouse (Duh!) for Halloween, and coordinate wearing pink on Wednesdays with a couple of your trusty sidekicks. You're also probably the person who absolutely needs to book this package at The Time New York Hotel.
If you're ready to get your "Jingle Bell Rock" on, head over to The Time for an unforgettable Mean Girls experience.