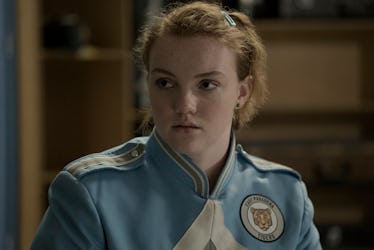 The Lyrics To Sierra Burgess' Original Song Are Perfect To Brighten Up Your Day
Aaron Epstein / Netflix
There are many memorable scenes in Netflix's rom-com Sierra Burgess Is a Loser, but one of the most meaningful moments involves an original song that is sure to awaken all sorts of emotions. Warning: Some spoilers ahead if you haven't seen Sierra Burgess yet. The film's heroine Sierra, a smart high schooler lacking self-confidence, pens a powerful anthem for those feeling unseen. The lyrics to Sierra Burgess' "Sunflower" are especially poignant and take a pivotal part of the film to inspiring new heights. The expressive ballad's moving message is the perfect musical compliment to the '80s throwback of a teen movie. Plus, the dreamy melody will have you playing the track on repeat.
Bonus! Actress Shannon Purser (Stranger Things, Riverdale, Rise) actually sings the song "Sunflower," which is on the film's fantastic soundtrack. Read the touching lyrics below:
Rose girls in glass vases / Perfect bodies, perfect faces / They all belong in magazines / Those girls the boys are chasing / Winning all the games they're playing / They're always in a different league Stretching toward the sky like I don't care / Wishing you could see me standing there / But I'm a sunflower, a little funny / If I was a rose, maybe you'd want me If I could, I'd change overnight / And turn into something you'd like / But I'm a sunflower, a little funny / If I was a rose, maybe you'd pick me / But I know you don't have a clue / This sunflower's waiting for you, waiting for you
Pop-dance sensation Troye Sivan (the artist behind last year's catchy "My My My!") has co-writing credits on "Sunflower" alongside Bram Incore, Leland, Allie X, and the movie's writer Lindsey Beer.
Aside from her stint on the short-lived Rise, Shannon Purser's vocal talent hasn't been showcased nearly enough on screen throughout her career. It's not like Barb had a big theatrical number before she disappeared, although that would have been a pretty epic diversion for the supernatural thriller. (Sidenote: Now I'm imagining a Stranger Things musical episode and I'm strangely not opposed to it.) Her character Ethel on Riverdale did have a bit part in the show's production of Carrie: The Musical. Fans want more! Purser's got pipes.
Sierra Burgess might be Shannon's first leading role, but the Emmy-nominated actress has been doing the crooning thing for years. That doesn't make it any less scary though. She explained to PopCrush:
I've been singing since I was a little kid, but Sierra was my first time singing on camera, which was definitely intimidating at first. I think it went pretty well. I love to sing. I'm very grateful that the team was so cool, so easy to work with. Leland [the film's music producer] was amazing. He was guiding me through it and we were playing around with the song. I think it all turned out so beautifully. I think the score and the soundtrack for Sierra really add something special to it.
Sierra Burgess Is a Loser is currently available to stream on Netflix.